We spent time sorting through and organizing gear in the new orthopedic equipment room.  Again, we were expecting to have a much bigger task in front of us but Elaine Lewis and JJ had performed wonders prior to our arrival so all that was left was taking care of a few small details.
We performed several smaller cases and 2 relatively big ones.  The first big case was a young man with skeletal dysplasia with resultant marked bowleg deformities requiring application of bilateral Taylor Spatial Frames.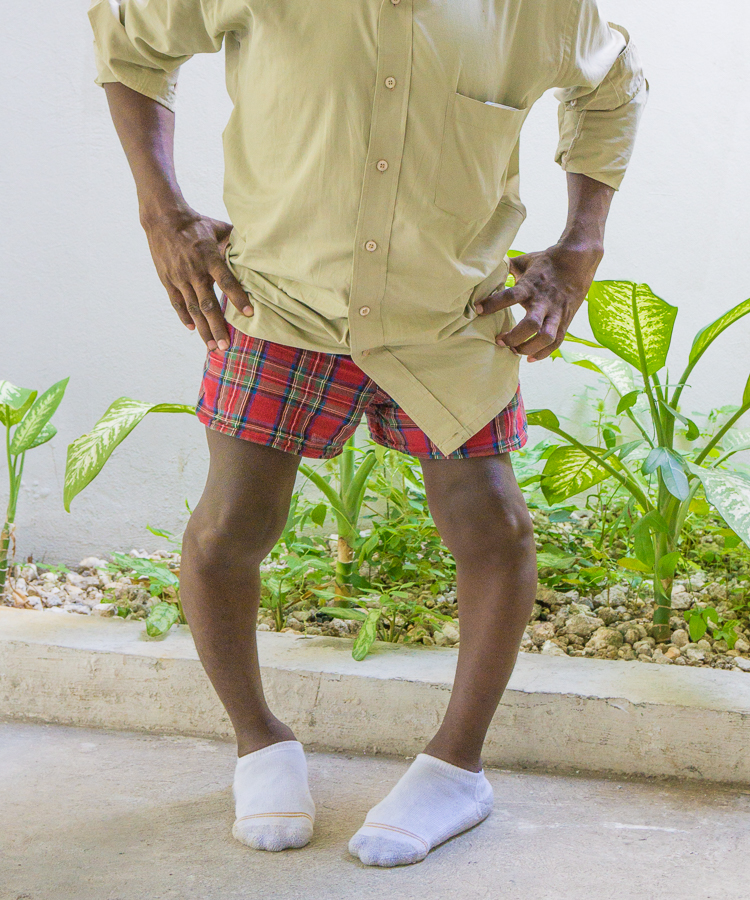 25 y/o male with severe bilateral bowleg deformities secondary to skeletal dysplasia
The Taylor Spatial Frame (TSF) is an external device for limb correction, lengthening and/or straightening that is based on the Ilizarov Method. This device and technique is a mainstay of pediatric musculoskeletal deformities at Hopital Adventiste. This external fixator takes advantage of the body's natural ability to grow healthy new bone tissue and gives the surgeon the ability to accurately move bones to their correct precise anatomic alignment.  The TSF fits around the patient's limb and is attached to the bone with pins or wires that extend from the rings, through the skin and bone to the other side.
To be more specific, the TSF is a circular, metal frame with two rings that connect with six telescopic struts that can be independently lengthened or shortened relative to the rest of the frame. This allows for six different axes of movement, which gives the TSF the ability to correct difficult congenital deformities and trauma cases.
When using the TSF, the surgeon inputs information about the patient's original bone deformity into an advanced web-based computer application. This information is then interpreted by the software and a day-by-day treatment plan is created. The software also creates an image of the patient's deformity on-screen and shows how the bones should be moving each day, until the bones are completely set in proper alignment. The patient then makes daily adjustments to the struts, depending on the prescribed course of treatment. As the adjustments are made, the rings are repositioned with respect to each other, moving bones in the directions necessary for treatment.
The second big case involved a young man who underwent intramedullary nailing of a right femur fracture sustained in a motorcycle accident 3 years ago. Unfortunately the patient developed a marked extension contracture of the knee (couldn't flex greater than 15 degrees) secondary to postoperative adhesions.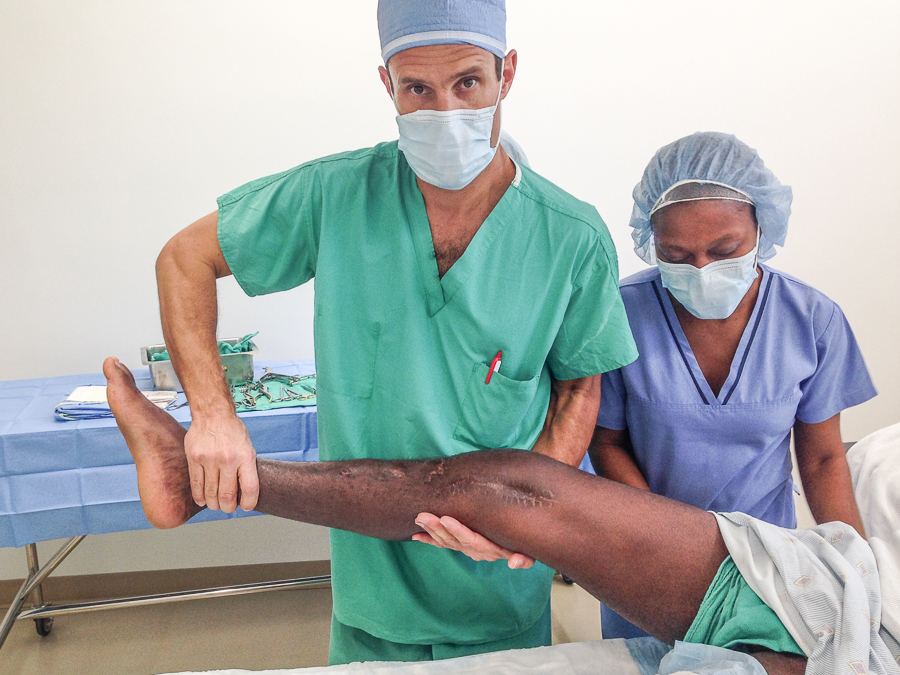 An extension contracture of the knee is a well known complication following  femoral fractures.  Traditional management consists of a quadricepsplasty which is comprised of a controlled, sequential release of the soft tissue structures, primarily the quadriceps muscle.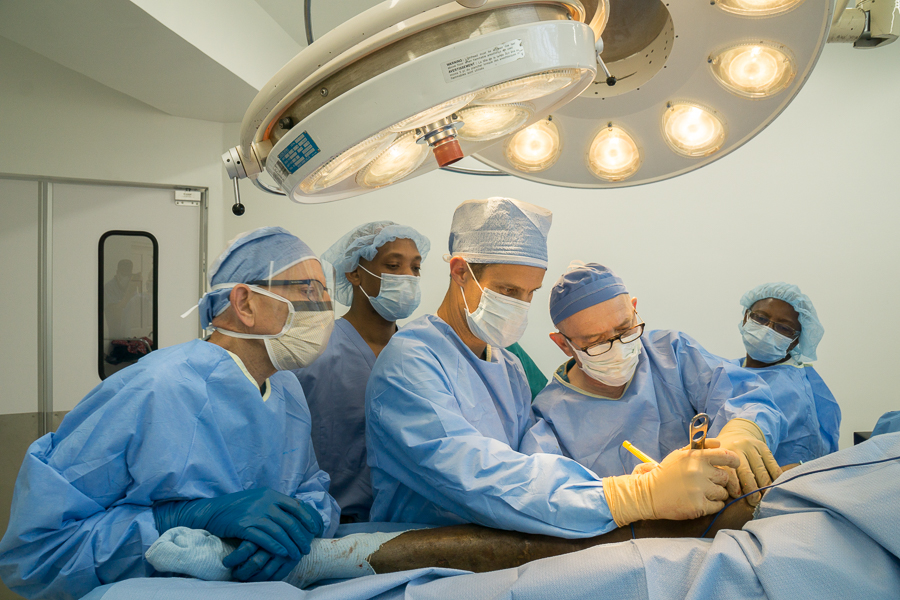 The Team performing a quadricepsplasty
This procedure can be seemingly somewhat barbaric as the incision is usually lengthy accompanied by a great deal of blood loss and frustration on the part of the surgeon secondary to slow progress.
We performed several small surgeries today including a bilateral 8-plate application for pediatric lower extremity angular deformities, a Girdlestone procedure (femoral head resection) in a paralytic patient, debridement of chronic tibial osteomyelitis and removal of a tibial external fixator with debridement of infected pin tract sites.  We also slogged through another clinic which is always a challenge primarily due to language barriers and xray logistics.
The highlight of the day was the arrival of two new team members from Israel, Drs Noam Bor and Mark Eidelman from Israel.  Dr Bor is the Head of the Pediatric Orthopedic Unit at Central Emek Hospital in Afula.  Dr Eidelman is the Director of Pediatric Orthopedics at the Meyer Children's Hospital in Haifa.
Collaboration with international team members on overseas trips like this is one of the outstanding fringe benefits.  Not only do our perspectives get changed as we entertain new ways of addressing problems, we make new friends that enrich our lives for years to come.
Day 2 of the Fall, 2015 Orthopedic Surgical trip from Loma Linda University.
Due to spotty and slow internet access, reports from our Fall trip will be delayed and sporadic.  This has been an exciting trip for us so far and hopefully will be encouraging to the many supporters who read this blog as we witness the incredible progress that has been made to date.
Three of us (Scott, Peter and Jim) left LAX at 11:35 Monday evening and took the red-eye to Miami where we met the rest of the team, Alex and Saif.  After a brief layover, enhanced by a tasty breakfast at the American Airlines Admiral's lounge, we took the close to two hour flight to Port au Prince.
Clearing immigration was a breeze but clearing customs was problematic once again as two of us had our baggage searched because the phrase "medical supplies" triggered a search for contraband medication.
Driving to Hopital Adventiste took much longer than usual due to a torrential downpour that flooded the the streets with debri washed down from the hills.
In spite of being tired from the all-night flight, we were eager to view the new operating theater to see what progress has been made.
The following post was written by Dr. Alex Coutsoumpos (far right in banner image above), a newly graduated general surgeon who, along with his family, has made a several year commitment to Hopital Adventiste d'Haiti.  After months of anticipation, the big day has finally arrived and the first surgical case was successfully performed in the newly renovated operating theater.
For the past couple of weeks the halls of Hopital Adventist d'Haiti have been abuzz with excitement regarding all the visible changes going on at our hospital.  Dan Brown, our facilities manager/construction extraordinaire, has been orchestrating simultaneous projects for the renovation of one hospital wing, building a new clinical laboratory and renovating the operating rooms.  This past week one of those projects was completed.
On Thursday, October 8, 2015, the operating rooms were opened for surgery after a special prayer of dedication (see banner image above).    This event would not have been possible if it were not for the operating room staff that tirelessly worked in between surgical cases to complete an inventory and organize a myriad of surgical items in preparation for the move to the new operating rooms over the last month and a half.  The move itself occurred over a period of three days, in which new donated equipment was transported in from storage, old indispensable equipment was refurbished, surgical supplies stocked and the new space cleaned from top to bottom.
Following the dedicatory service, Dr. Alexis, and his assistant, Dr. Thierry Rosarion completed the first two cases in the new operating rooms.  The first case was a knee arthroscopy and the second case was a forearm debridement in a young child who had developed osteomyelitis after surgical repair for an ulnar fracture at an outside facility.  Fortunately, both cases were completed without any major glitches.
The determined work of Dr. Elie Honorie, Dr. Scott Nelson, Dan Brown, Edward Martin, the hospital administration, the donors and the hospital staff is truly appreciated.  Without this group of people the completion of this important project would not have been possible.
Though the hospital still faces many difficulties there is a burgeoning sense of optimism for the institution.   Many staff members have approached the administration to share their words of affirmation for the work that is currently being done to improve the hospital and its future.  For many, the opening of the new operating rooms is not a just a symbol of change to come, but the realization of a new chapter for the institution.
More than 2 billion people are unable to receive surgical care based on operating theatre density alone. The vision of the Lancet Commission on Global Surgery is universal access to safe, affordable surgical and anaesthesia care when needed. The study aimed to estimate the number of individuals worldwide without access to surgical services as defined by the Commission's vision.
The Commission modelled access to surgical services in 196 countries with respect to four dimensions: timeliness, surgical capacity, safety, and affordability and found that at least two-thirds (4·8 billion people) of the world's population do not have access to surgery. The proportion of the population without access varied widely when stratified by epidemiological region: greater than 95% of the population in south Asia and central, eastern, and western subSaharan Africa do not have access to care, whereas less than 5% of the population in Australasia, high-income North America, and western Europe lack access. Interpretation
The bottom line is that most of the world's population does not have access to surgical care, and access is inequitably distributed. The near absence of access in many low-income and middle-income countries represents a crisis, and as the global health community continues to support the advancement of universal health coverage, increasing access to surgical services will play a central role in ensuring health care for all.
Although Haiti was not specifically addressed in this article, it would be safe to assume that it would be included in the category where 95% of the population does not have access to adequate surgical care.  Please reference a related post titled, "I'd rather have HIV than a broken leg."
Received a note today from Hopital Adventiste Project Manager Dan Brown stating, "If all goes well we will be moving in on Tuesday, Sept. 29th!"  He was referencing, of course, the long-awaited renovation to the new operating theater.  To all past and future volunteers and staff, this is great news indeed.  The banner image above shows the newly installed doors leading to the 3 new operating rooms.  Dan and his crew have managed to pull off a first class effort as evident in the images below.  We are looking forward with great anticipation to our trip next month.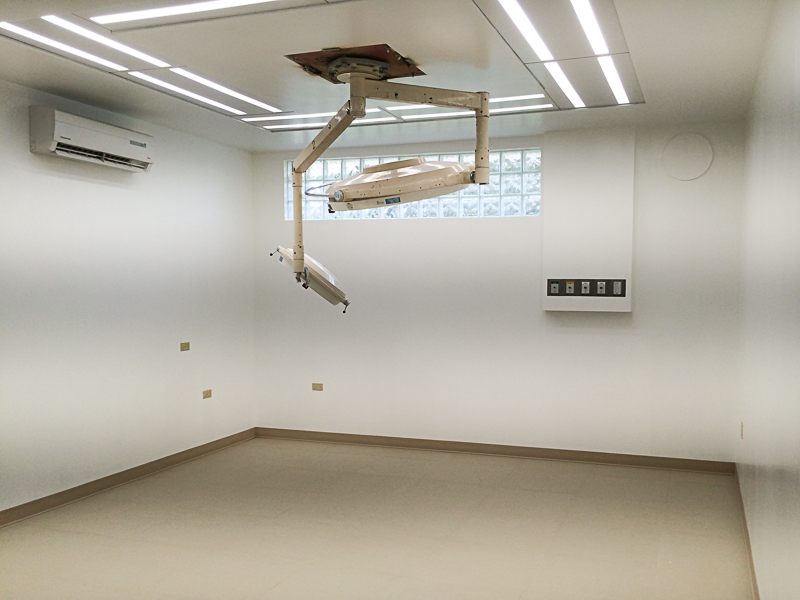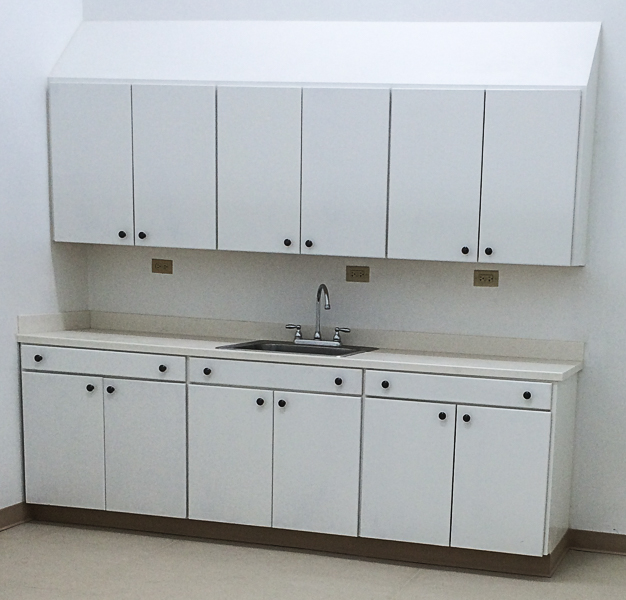 The following article was written by Merrill Chaus, RN and was originally posted on the Team Sinai Haiti blog.  Merrill has visited Haiti on numerous occasions and recently wrote an article titled "Dark Side of Doing Good" for haitibones that is well worth reading if you have an interest in volunteering overseas.
On August 2, 2015 Operation Rainbow/Team Sinai conducted a nursing workshop at Hôpital Adventiste d'Haiti in Carrefour.  The idea for this conference evolved in response to research and interviews for my MPH thesis, in which I explored local health care worker perceptions regarding short-term surgical missions.  Recommendations from the local healthcare workers included a desire for more nursing education in the local language.  The purpose of this 2-day conference was to honor this request.   Topics of interest suggested by the nursing director included: Infection Prevention, Role of the Operating Room Nurse, and Care of the PACU (Post-operative Care Unit) patient.  In addition to these presentations, Dr. Francel Alexis gave an informative lecture on TSF (Taylor Spatial Frame).  There were 70 participants, which included nursing students from the university, HAH nurses, housekeeping, PT and a physician.
Our nursing instructors Johanne Sequin and Nadine Henry, both from Shriners Hospital in Montreal, Canada gave 6 talks in French and Creole.  Johanne has 40 years of experience as an Operating Room Nurse and Nadine has 30 years experience in pediatric and adult PACU. Recruiting experienced instructors that spoke the local languages was key.  Brittany Herzenberg, our administrative assistant, kept us on time and organized.  She even secured a small generator when we lost electricity to the LCD projector.
The handrub formulation is evidence-based, utilizes local resources and provides access for healthcare providers at point of care. Four local nurses formed an infection prevention committee to oversee production and utilization of the handrub.
After a hospital wide assessment, dispensers were placed at strategic locations away from electric outlets, medical gases and light switches.  According to Mac, the Haitian volunteer coordinator, dispensers are actively being used and refilled when necessary.
Break out sessions were arranged so participants could practice: donning and doffing PPE (Personal Protective Equipment), proper hand hygiene technique and simulate real case scenarios that may occur in the OR, PACU or wards. Course certificates were given at completion of each workshop (see banner image).
The conference concluded with a demonstration on how to make alcohol based handrub according to World Health Organization guidelines. We are thankful for the invaluable support of the administrative staff. HAH provided two air conditioned rooms and lunch for all participants.
Team Sinai will be returning to HAH this January for our annual surgical mission, this time with an emphasis on foot and ankle surgery.
The following update was written by Edward Martin, Administrator of Hopital Adventiste d'Haiti (HAH). 
Brief Summary
The situation under which I was coming to the hospital was less than ideal. In the last quarter of 2013, the hospital ended up losing a very important revenue stream which sent it on a downward spiral. That service accounted for over 60% of its operating budget and since the other hospital services weren't generating enough revenue to cover the difference, the hospital was unable to meet its financial obligations faithfully. The impacts were felt almost immediately and life for the staff became extremely difficult.
I formally took up my position as Hospital Administrator on September 2, 2014. On the third day of my post, I began meeting with my staff to begin planning the way forward. As an administrator that has worked in sub-Saharan Africa for over 9 years, I have been involved in many hospitals, clinics and rural healthcare center, and while the challenges I have experienced in those countries were similar, rarely have I come across an institution that can accurately be termed "a diamond in the rough."
Finances
As was mentioned, the hospital has had challenges financially. It has not only impacted the ability to compensate the employees in a timely manner, but also to meet its obligations to various suppliers, government entities and service providers.
Solutions
We have conducted a right-sizing exercise that helped to more accurately reflect the proper staffing levels needed.
Upgraded accounting software and trained staff on the new accounting procedures.
Collapsed and centralized similar services which called for less staff but greater oversight over assets and personnel.
Established Central Stores for better accounting of medication along with medical and departmental supplies.
Restructured the business department so that employee's strength is aligned with the designated position.   We haven't fully finished with the restructuring within this department, but we are close.
With the coming of Mr. Jean Robert Julien (Bob), we have been able to gain much more momentum in the restructuring of the business office.
Infrastructure
Over the past 34 years of the hospital's existence, signs of aging can be seen throughout the hallways and in every area where services are rendered. Many of our departments present a less than ideal space for care to be provided and general maintenance is needed on most of the hospital's utilities, whether it be rusted pipes which are springing leaks or exposed electrical wires. However, with the coming of Dan Brown, our Facilities Manager, many of the growing structural concerns are being addressed.
Solutions
Renovations of the brand new Operating Rooms are near completion. This project has been the brain child of various individuals and organizations such as Dr. Scott Nelson, Loma Linda University Health and Florida Hospital.
The Laboratory Department is also undergoing renovations and is also near completion. Our hope is to become a reference lab for the country. Our highly motivated laboratory staff have been undergoing intense training in preparation for the transition into their new area.
Minor renovations are being done currently on the plumbing and electrical cables until a later time when a complete overhaul of the system can be done.
Personal Challenges
Language Barrier
I am not proficient in French, however I have a very basic understanding of Creole and am able to communicate at a very standard level. However, when I first arrived at the hospital, I heavily relied on my top administrators and secretary to help translate for me. As you can imagine, it has been very difficult trying to get my ideas across, especially when trying to guide an institution that is gravely under resourced and lead it toward becoming sustainable.
Social Aspect
As a single man, it has been relatively easy for me to relocate to different counties whenever opportunity came knocking. My travels have brought me into contract with many inspiring personalities and fascinating places. I wouldn't trade my experiences for anything. At the same time, I must admit, there are moments when the excitement of experiencing the world as a single person loses its luster and unfortunately for me this is one of those times. All I can say is that Haiti, with its rich culture and polarizing moments was never meant to be experienced alone.
Strategic Direction
New Personnel
While the hospital is beginning to transition out of an extremely difficult period, I am very optimistic about its future and the objectives we have set out to accomplish. In order for the institution to be successful, it will continue to require a collaborative effort between the Board, hospital administrators, staff and other supporting partners. Furthermore, as part of the hospital's overall strategy to expand its services while generating much needed revenue, we will be joined by new team members.  One being, Dr. Alex Coutsoumpos, who will be taking up leadership as the Chief of the Perioperative Department while assisting our Medical Director in the coordination of medical activities.   Dr. Coutsoumpos is a US board certified general surgeon who, with his family, joined our team this summer. In October, we will have Drs. Kim joining us. Joseph Kim is a US board certified Emergency Medicine doctor and his wife Melissa is a US Board Certified Pediatrician. Joseph will be heading our Emergency Department and Melissa our Pediatric Department. To help re-enforce our accounting department and laboratory, we will soon welcome Gay and Rommel Malapit. Gay Malapit is a licensed Certified Public Accountant out of the Philippines who will be assisting in building up our Accounting Department. Rommel, with his background in Biomedical Sciences, will be essential in the continuity of training in the laboratory while leading our laboratory towards a Reference Lab status. Our new employees have committed themselves to working for the institution for anywhere from 2 to 5 years.
Short to Medium Term Vision
The short to medium term vision is one that is shared between many individuals and organizations who have committed themselves to the development of the hospital's infrastructure and services. Some of these individuals include, but aren't limited to. Dr. Richard Hart, Jerry Daly, Dr. Elie Honore, Pastor St. Pierre Theart, Dr. Scott Nelson, Dr. Terry Dietrich, Dr. James Matiko, Monty Jacobs, Dan Brown, Loma Linda University Health-Global Health Institute, Florida Hospital, Adventist Health International and the HAH Administration and Staff. Here are some of our short, medium and long term goals:
Phase I (1-2 years)
Operating Room Renovations (near completion)
Laboratory Renovations (near completion)
Emergency Room Renovation ( pending)
Hospital Main Floor Renovation (pending)
Orthopedic Clinic Relocation and Renovation (pending)
Dental Clinic Installation (pending)
Embassy Clinic Installation (pending)
Electronic Medical Record (in process)
Telemedicine-Wound Care Program (in process)
Haiti Air Ambulance Helipad (in process)
Phase II (3-5 years)
Community Wing ( pending)
Additional Land Procurement (pending)
Phase III (6+years)
Establish health institutions in major cities throughout Haiti.
Finally, it's important to understand that while we have supporters, the hospital fully runs its operations off of the revenue generated from its patients. This is the preferred model for us because it enables us to realistically plan for the future. If you would like to receive more information about the hospital, interested in potential visits or initiatives to subsidize poor patients, please feel free to contact myself (edwardhmartinii@gmail.com) or our Volunteer Coordinator, Mackinson Christophe (ahihaiti.volunteers@gmail.com).
On March 7, 2010 the Los Angles Times published an article written by Joel Rubin entitled "What happens to Haiti when 'the good doctors' leave."  The main thrust of Joel's article was "Emergency medical workers are becoming the de facto healthcare system for a country that has long failed to care for its own.  Soon a ragged health network could be left largely on its own again."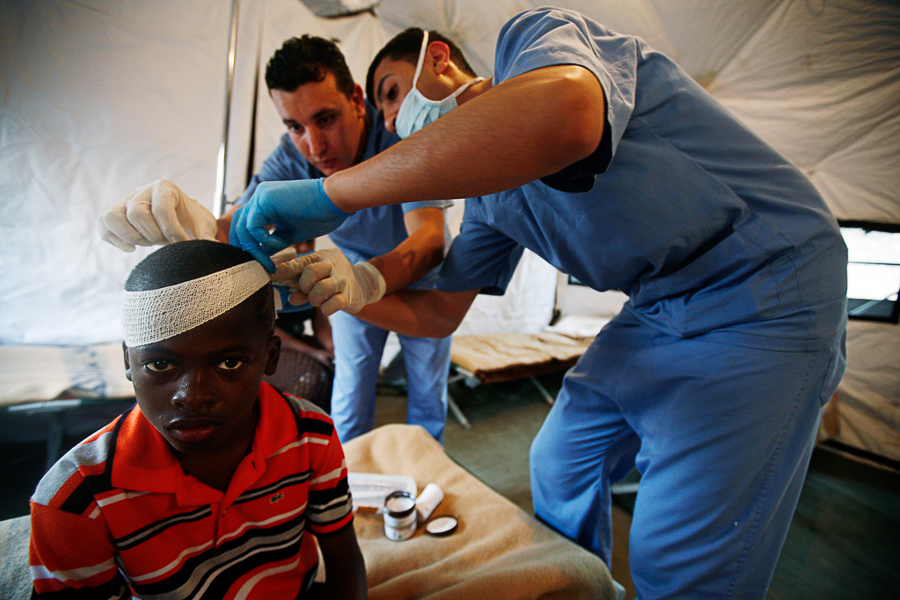 Unfortunately, we have now passed the 5-year anniversary of the Big Quake and Joel's prediction has come to fruition, his post remains as poignant now as it did then.  The devastation from that natural disaster affected approximately 3 million people and killed 220,000 according to government estimates.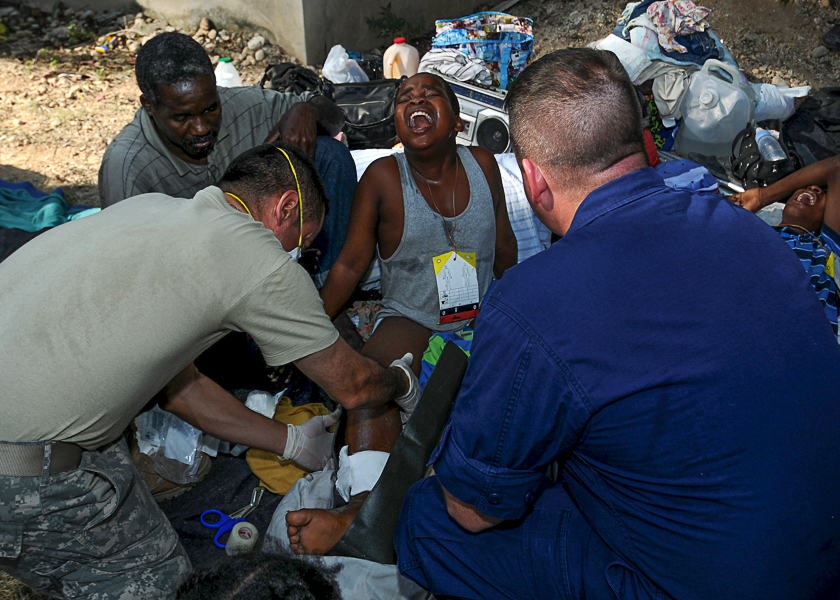 What is the situation in Haiti now after several years of reconstructive efforts?
Before any sort of assessment of where Haiti is now, we should remember that on January 12, 2010, 60 percent of an already dysfunctional health system was destroyed in an instant. Furthermore, 10 percent of Haiti's medical staff were either killed or subsequently left the country. This was, quite simply, a catastrophic event for the country.
The problem with healthcare in Haiti is that there is still no system, no structure, no plan – at least not one that has been widely implemented. What healthcare facilities exist are wholly inadequate – insufficient medical staff, support staff, equipment and treatment. It is left to medical NGOs and a few faith-based charity clinics to provide what they can.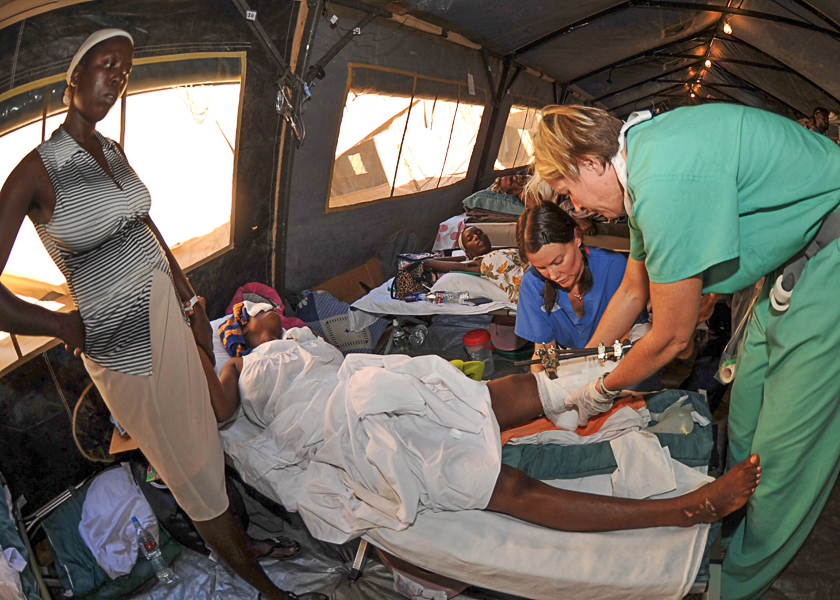 Fortunately, at Hopital Adventiste d'Haiti we have retained "good doctors" including the Director of the orthopedic surgical program, Dr. Francel Alexis, born and raised in Haiti, who continues to strive to overcome obstacles with a dedicated team of local nurses, technicians and volunteer workers.  Please consider supporting the restorative project at Hopital Adventiste.