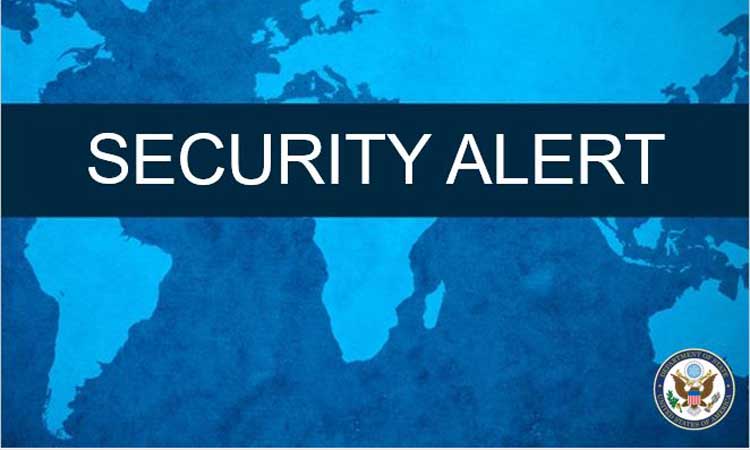 Thank you all for your thoughts, prayers and concerns for our work and for the country of Haiti. Things have been tense over the past several weeks with violence and protests aimed at overthrowing a corrupt government. Police are in a particularly precarious situation as many of them are in agreement with the aims of the protesters yet are being asked to maintain law and order. The upheaval has disrupted life at every level. People have not been able to move freely about the city, markets, banks and petrol stations were closed for over a week and since have only been open intermittently. People are unable to access basic necessities. Fear and lawlessness is becoming the norm. This has had a negative impact on hospital census and income.
In this gutsy 6 minute episode of Vice https://www.youtube.com/watch?v=3eNzEGEsxr0 one can get a quick overview of the situation which exposes a lot of unanswered questions. The unfinished bridge scene at 2 minutes is 1/2km from Hôpital Adventiste and marks the home stretch of my morning running route.
Additional fury was created when some heavily armed US mercenaries were caught red handed by the Haitian police in an unmarked vehicle that belonged to top Haitian government officials. These ex-navy seal snipers who specialize in top level security jobs had barely made it out of the airport on their ill-fated mission when they were apprehended by the Haitian traffic police and then thrown into the local slammer. Some unknown negotiations between the US embassy and the Haitian government allowed them to return to PAP airport in shackles. American Airlines required them to be unshackled prior to boarding and then they were set free when they arrived at MIA. News of the botched operation has gone viral and basically ruined any future clandestine security opportunities for these questionable characters. In the meantime the president denies having anything to do with them.
Dr. Alexis was unable to come to the hospital for over a week due to all the roadblocks and manifestations. Most of the employees live in the local neighborhood and were able to make it to work, although for several days we did not even have a single patient make it to clinic or surgery. I held down the ortho service during this time – which was not difficult. We took advantage of the situation by doing a lot of spring cleaning and organization of materials in the OR. Food and fuel stocks ran low, but thankfully never completely ran dry.
As for danger – there have not been any direct attacks aimed at us or unnerving events at our hospital or the immediately adjacent area. We do often hear gunfire and yelling down the street and off in the distance. There is no question about the dangers and dramatic affects this situation has had on everyone. Thankfully the loss of life has been rather limited. Nonetheless, with level 4 alerts from the state department, missionaries are being evacuated and all non-essential embassy employees are being sent home. I am not sure I understand the logic of all that, as missionaries are needed more than ever, and it may not be that much more dangerous than the all the of the subtle influences of the United States.
On one particular day we had to take to the airport in the heat of the riots. This occurred the morning after an apathetic speech from the president who will not step down. One of our patients asked if there was any way we could take him to Delmas in the ambulance and since Jere was going to the airport that day I arranged for the patient to go along.  Patrick and Michel wanted me to come and bring an oxygen bottle and box of medical supplies so we looked official.  Without that I don't think we would have made it.  We almost took our patient back to the hospital just so we could make it back ourselves.  We had to navigate multiple road blocks and at one point this guy in a red shirt whose smile was almost as big as his muscles started running 50 feet in front of us clearing the way and negotiating passage with the barricade ring leaders. Some were quite stern and were armed. They looked inside the ambulance very carefully to make sure it was really functioning as an ambulance.  Fortunately it was… We had to navigate a lot of smoke and fire leaving a burned rubber smell on our clothes.  Once the road cleared a bit the guy in the red shirt and his buddy held on to the outside of the vehicle until they were chastised by some police officers.  We had to let them go, but then after we let Jere off at the airport we went back and found the them and proceeded to Delmas to drop off the patient.  Then Patrick had another prayer which the escorts appreciated.  We gave each of them 500 gourdes ($7) and took down their phone number for future reference.
In any case maybe not more dangerous than navigating your way by all the shopping malls and fast food joints on a trip from Loma Linda to LAX!
The past several days I have been in the US on a previously planned trip. Dr. Alexis has been able to make it to work on most days and has taken care of several gunshot wounds. He said one of the days demonstrators were pouring oil all over the streets as he drove to the hospital from his home near Petionville. In Martisant (corridor between hospital and center of town) there were two citizens killed in one day and on another day a police officer was shot and killed by the bad guys.
For those of you planning trips… predicting the situation is equally as difficult as predicting tropical storms. Forceful storms come and go rapidly as burning tires in the streets. I do imagine that until a major change in political power occurs that the situation will remain quite volatile.
Scott Nelson, MD
February 7, 1986 was the day that dictator "baby doc" Duvalier was overthrown in Haiti. To mark this occasion 33 years later and call for the resignation of Haiti's current president the Haitian people have come out in force. Inflation continues to rise out of control (the gourde is now 82 up from 65 this time last year) and corruption plagues the government who has not been able to satisfactorily account for US$3 billion in the Petrocaribe deal. A call to action was made last Thursday where thousands of people protested on the streets of Port au Prince.
This paralyzed all transportation and most businesses. Our patient census is very low and patients are not showing up to clinic as there is no public transportation and it is impossible to safely travel even relatively short distances. On Friday there was a reticent return to normalcy. And Saturday, things seemed to start out relatively normal and then at midday, chaos erupted on the streets of Carrefour with fiery roadblocks and a large mob of angry citizens making their way towards central Port au Prince. Our hospital is located near the main road connecting the entire southern part of Haiti with Port au Prince. This thoroughfare is a favored area for disrupting commerce by creating roadblocks. Tension continues to mount. In spite of all the disruption PAP airport has remained open. This morning we had to make a trip to the airport. We went in the ambulance and I wore hospital scrubs and my badge. Most of the demonstrators kindly let us through, but on the way home at 7 am many more roadblocks had been created. These are made from any combination of rocks, tires, branches, furniture, trash, overturned cars and fire.
In spite of burning tires and the sound of gunshots in the distance no one should worry much about our personal safety or discomfort. Many people cannot get food and fuel because of the disruption. Delimart has been closed and barred up most of the time since Thursday with the Haitian militia protecting it. For those of you not familiar, Delimart is our local food source outside of the fresh food we buy from street vendors. The owner of the Delimart chain is thought to be a supporter of the president and thus it is particularly prone to looting and mass destruction unless proper measures are taken. If the market does not open up again soon I might be eating canned garbanzo beans for breakfast! But I doubt I will suffer any serious hunger. All petrol stations are still closed and motorcyclists are being stopped by gangsters to make mandatory donations of gasoline to fuel their fires. Our diesel reserves for running the hospital generator are down to the last day. (city power only arrives at night for a few hours) The maintenance crew was able to rally up a 55 gallon drum of diesel yesterday to keep things going at least until now. We have powered down air conditioners and are only running essential systems.
In spite of turmoil great things are also happening. Rozanie is a 57 year old lady who had a tumor removed from her right knee in 2011 at one of the best hospitals in Port au Prince. This was a giant cell tumor, this is benign but is known for its tendency to recurr. When she presented to me several weeks ago the tumor had recurred and totally destroyed her knee creating a large visible mass. I texted my friend Lee Zuckerman who is an ortho tumor specialist at LLU to ask if he thought amputation or fusion would be the best option. Of course he recommended a $25,000 total knee mega prosthesis! But unlike other first world advice that I sometimes get, he said he would get Onkos Surgical to donate the prosthesis and come down to do the case. That same day a couple hours later I met Wilthur a 2 year old who had a tumor (lipofibromatosis) removed from his forearm and it was now bigger than ever. I sent a photo to Dr. Z and we scheduled both cases for February 6. He flew in from Los Angeles the day before and left the day after. Both cases came quite close to cancelling after he arrived… which would have been tragic. Rozanie was anemic. We had ordered blood for her, but the situation with blood here is a long and complicated story. Her blood type is O Neg which is present in only 7% of the population. In spite of trying to get blood during the 2 weeks prior, the Red Cross was unable to accommodate. We did the calculations and promised ourselves not lose one drop over 600cc of blood, which gave us a small margin for safety. The case went perfect and she ended up only losing 300cc.
Dr. Zuckerman and Charlie the Onkos rep were able to catch the first flight out Thursday morning before the "manifestations" went into full effect. Subsequently Rozanie has recovered beautifully and is getting some extra rehab while waiting for the street scene to calm down.
Scott Nelson, MD
Just 2 months ago Marni and I arrived in Port au Prince. This time it was with one way tickets. This is both literal and figurative. It is not that we won't be going back to the United States, in fact some voyages are already planned, but we now live in Haiti. We don't have a home in California – it is rented out. Trips will now originate from PAP not LAX.
Living in Haiti is different than visiting. We won't be going "home" in a week or two. The differences of another culture have to be accepted and embraced. Two more languages have to be learned. And administrative issues at the hospital cannot be ignored. I keep reminding myself that there are benefits of doing hard stuff. This is hard stuff. But even though it is hard, I still have it better than most people living in this city. To some it may seem a life of hardship and sacrifice but it really is not. Don't feel sorry for us. Although the challenges are overwhelming, each one of these challenges presents an opportunity. A lot more on that in upcoming posts… But I can summarize by saying I am happy to be here, working with wonderful people, attempting to make a difference for our patients, our hospital and the country of Haiti??.
Marni and I have now settled in to our 300 square foot cottage. That did not really take long. Basically it consisted of unpacking a couple of suitcases and putting sheets on the bed. Our place is about 100 feet from the door of the emergency room. Living so close has its pluses and minuses but for now they are mostly pluses. Commuting time is minimal, we have 24 hour water and electricity, there is security and we have a relatively large garden area around our house. There are several people that are living in small buildings within the same area.
Amongst other cases this week we took care of Michelot an 8 year old boy from Cite de Soleil (city of sun) one of the most impoverished slums in the western hemisphere. Appropriately named for the tropical sun that beats down on those toiling in the streets where all vegetation and signs of nature have been completely eradicated. Life is not easy especially when injuries or illness occur. Michelot developed a fever with pain and swelling in his right thigh earlier this year. He was seen at a local hospital where a very small incision was made to drain some pus from the thigh. The infection was seeded in his femur and progressed to the point where the bone integrity was compromised and fractured. He was placed in a cast which ended at the site of the fracture only making the situation worse. When it did not heal he was told he would probably need the cast for a couple more years. That was when someone found him and brought him to Hôpital Adventiste.
Osteomyelitis or bone infection is an amazing process when nature is allowed to run its course. This is a process rarely witnessed in developed countries where the first signs of infection are aggressively treated in order to avoid further destruction. In Michelot's case the shaft was devascularized by the infection and walled off (sequestrum) and then new bone started growing around it (involucrum). The involucrum was not yet fully mature and a fracture had occurred preventing him from being able to walk. We were able to remove the sequestrum and stabilize the bone. At this point nature can resume its course and hopefully the newly growing bone will consolidate and become strong.
Early light is just starting to welcome in another day as I sit in the peace of the morning under the mango tree in front of our place. A few chickens and their babies are cackling as they are out here scouring the ground for insects. Yesterday Marni asked Jacques, the gardener to capture the rooster that roosted in the tree above our place and started cock-a-doodle-dooing at 4am every day, so the morning is a bit more peaceful than usual.
Scott Nelson, MD
This is one of those dates that reminds me of where I was at 4:53pm on this same afternoon in 2010.  People in America and around the world remember with clarity where we were on the morning of 9-11-2001 when 2996 people lost their lives.  Today the Haitians remember every terrifying detail of this same afternoon 9 years ago when more than 200,000 people lost their lives.  Special mention was made at our church service today in Carrefour about this event.  Praise was given to God for bringing the people through this event and blessing them over the past 9 years, knowing that He has special plans for each and every one of us.  I was not here, but I did experience the earthquake on my way home from work that day in Santo Domingo.  Every detail of the next 72 hours is well engraved in my mind as this was a significant change in direction for me.  I had been here to Hôpital Adventiste d'Haiti several times before.  At the time these experiences were less than inspirational and the hospital had largely lost the luster of its early years.  It was operating on a shoestring budget and striving to cater only to those who had significant resources.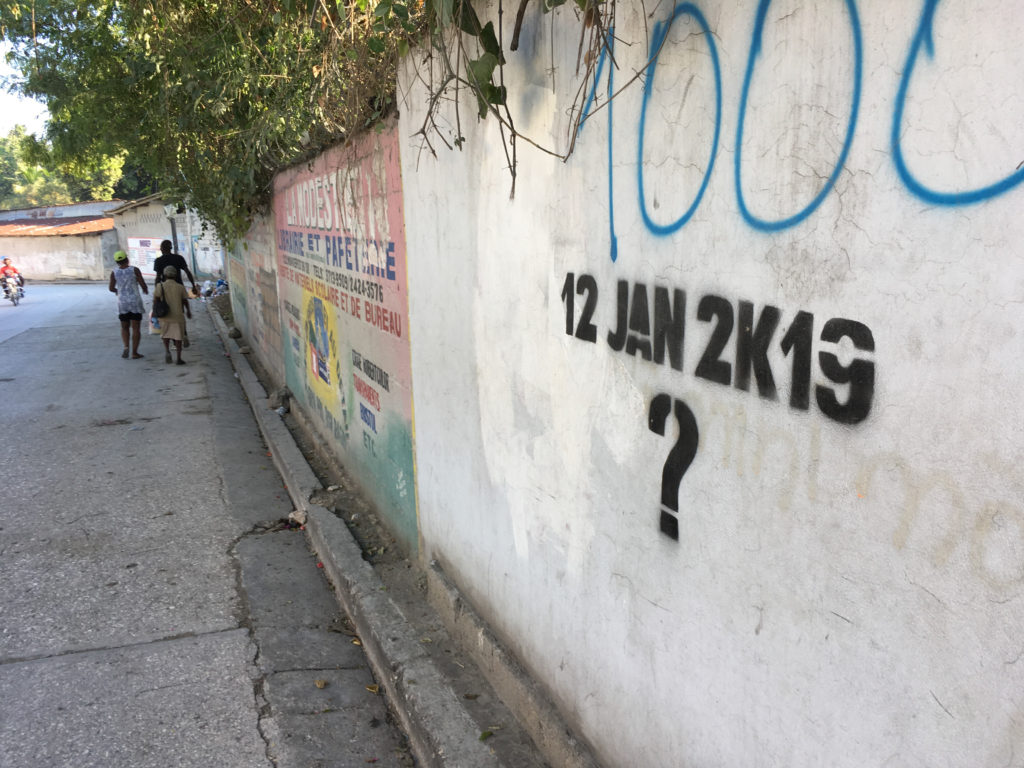 Before I arrived here in Port au Prince 48 hours after the earthquake I realized that in spite of the tragedy this may become an opportunity to recreate a mission hospital.  The story is one that many of you have been part of.  The deterioration of the hospital that had occurred in the years preceding the earthquake superseded any damages brought to the building which was the closest major hospital to the epicenter.  With great gusto and lots of external support an orthopedic program was launched.  I spent 6 months working here full time and then Terry Dietrich came with his wife for another whole year and was joined by Dr. Francel Alexis who has been the mainstay of our program here over the last 8+ years.  We have had many victories and frustrations, but when looking back there have been many more victories than defeats.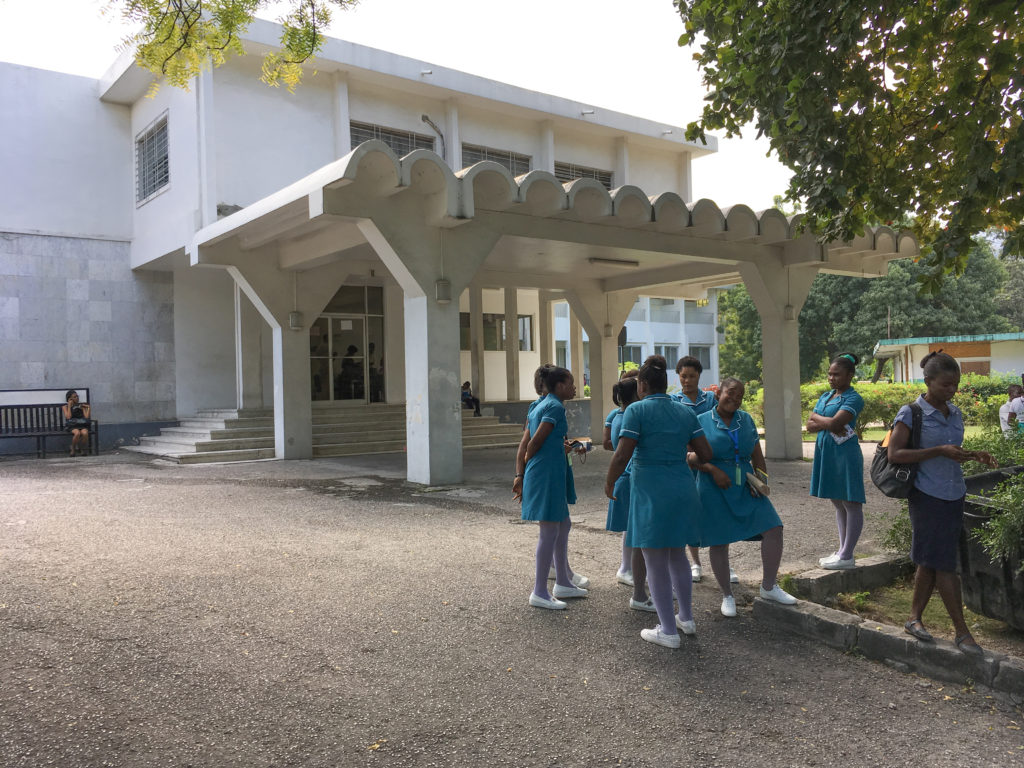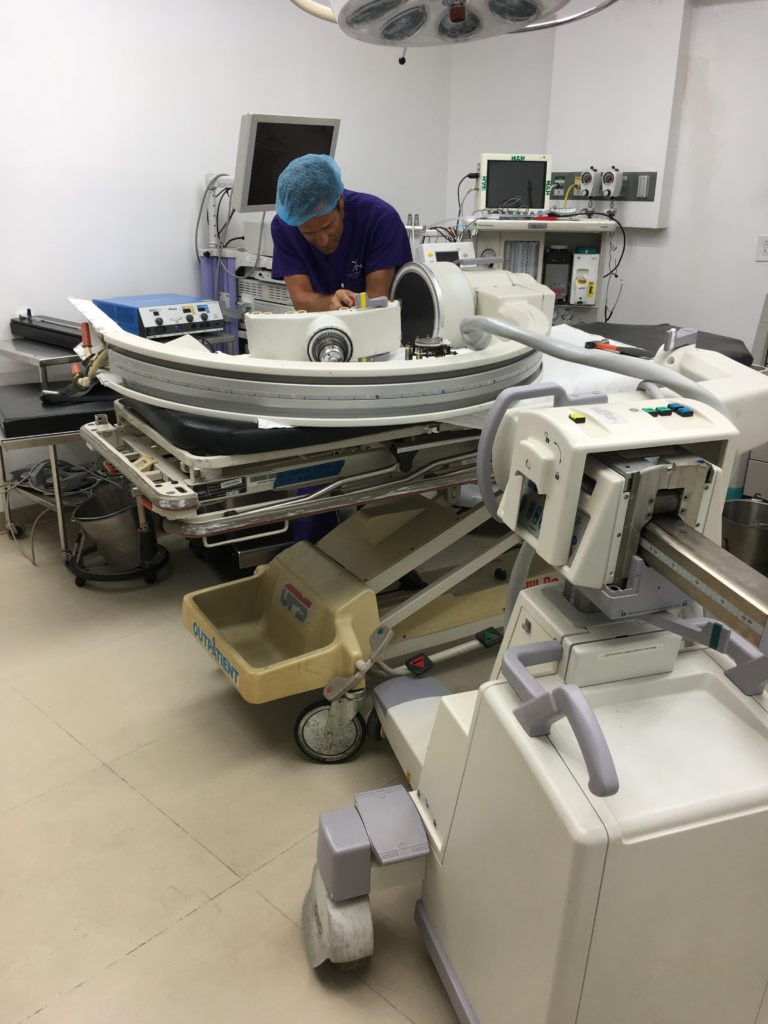 This week we made a significant leap towards realizing our mission of providing hope and healing to people of all economic classes.  We now have a designated office for financial counseling and social support that will help facilitate communication and financial support for patients without sufficient resources.  Developing prices for surgeries is always tricky in mission hospitals.  If we make it cheap enough that everyone can afford it, then balancing our budget and paying our employees is difficult or impossible. In addition other health care institutions would resent us for undermining them.  If prices are too high then poor people get turned away.  If they are in the middle then some of both problems will happen.  This mandates some flexibility with pricing especially in situations regarding medical emergencies.  Hopefully our new financial counseling office will help us to treat all of our patients with the highest level of dignity and respect.
Scott Nelson, MD
Bon Bagay means "Good Stuff" in Kreyol.  If you say it a few times it becomes addicting.  It is a fitting title for this week's events. Team Sinai returned for their 7th trip to Hôpital Adventiste d'Haiti.  This is a group led by John Herzenberg MD one of the most respected limb deformity surgeons in the world.  His wife Merrill is the organizer of these trips which include a comprehensive team of people from 6 different countries many of whom speak French and Kreyol.
I first met Dr. Herzenberg in 2004 when I went to the Baltimore Limb Deformity Course as a young surgeon.  He is the course chairman. This course really opened my eyes to a new world of surgical possibilities and taught me many surgical concepts I had never before known.  I learned about limb alignment, bone lengthening and gradual correction of severe deformities.  There is so much to learn that I decided to repeat the course two years later and at that time I asked if I could come and spend a summer in Baltimore at the International Center for Limb Lengthening.  This was an amazing experience both for mentorship and learning.  I never dreamed that these surgeons would all come down multiple times to work with me in Haiti and the Dominican Republic.  Mothers in Europe, the Middle East, and Asia are Google searching for well-known clubfoot and limb deformity surgeons and find John Herzenberg, meanwhile, moms come across Port au Prince from some of the worst slums in the western hemisphere to Hôpital Adventiste to find the same guy.  Bon Bagay!
We had a great week with the team which included a lot of operations as well as a Taylor Spatial Frame workshop.  This consisted of 4 hours of lectures for local surgeons and residents and then another 4-hour laboratory session to teach hands-on application of the TSF (graduates pictured in banner image).
For those of you who are not familiar, TSF is a type of external fixator used for limb lengthening as well as gradual correction of various deformities.  It is based on a mathematical theorem that allows you to correct all kinds of exotic deformities but requires some computer programming in order to do so.
Meanwhile, a lot of other Bon Bagay is occurring at the hospital.  Last week a CT scanner arrived from Florida Hospital (see banner image).  There are only 2 others to my knowledge in the country and one of them is usually broken down.
The installation for this is quite complex as it needs a 480V line, so if you have cancer please don't stand by until we get this thing up and going, it could be a little while yet. Thankfully we have an electrical master, JT Haas on site who is getting the job done.  Previously he was in charge of power distribution for the central coast for Pacific Gas and Electric.  He recently retired and is giving his time and expertise to help us solve some major issues.
We were told these issues would cost about two or three hundred thousand dollars to fix, but by redistributing some of our power and working out some practical solutions JT is going to have the job done for less than $30,000.  Bon Bagay!
Scott Nelson, MD
As I deplaned at MIA this morning, we were immediately directed towards an escalator leading to the Skytrain.  I stepped on to the elevator and the young man about 25 years old right in front of me fell down and dogpiled with the man next to him on top of my bag as I tried to pad his fall.  At that point, his feet were up and his head down as I struggled to lift him up.  He looked like a young healthy man and did not seem to be drunk after this short morning flight.  As I helped him up his friend explained to me that it was his "first time".  I said "welcome to the United States of America!".  I only know of one escalator in Haiti – it is in the arrivals hall at PAP. Out of the many times I have arrived there it has only been working once.
This experience gave perspective to some of the things we have been trying to accomplish at Hôpital Adventiste – commonplace endeavors to take us up to the next level sometimes end up in a dogpile at the bottom of the escalator as we tumble over each other trying to communicate, understand and stand up again.
One such endeavor is our new PACS system.  Some of you may not know what that is, and the rest of us who do, still might not know what those letters stand for…Picture Archiving and Communication System.  Virtually all hospitals in the United States now have such systems which electronically store radiographic images.  This technology is to the traditional x-ray what digital cameras are to film cameras.  The way it works is by the use of a 14×17" digital detector which is the size of a standard x-ray cassette. X-rays out of any old, new, portable or stationary machine can be beamed through the patient onto the DR detector and voila! The image shows up on an adjacent computer via Bluetooth. It is then labeled, edited as necessary, and archived onto our server using an Agfa PACS database program.
The benefits of a digital system especially at a mission hospital are many.  Film x-rays often require about $20 US of film and chemical per study.  Bypassing the need for film allows us to more easily afford x-rays for people who cannot pay and yields more profit for the folks that can.  If a poorly performed x-ray is taken then it can either be edited for clarity or retaken without wasting materials.
Gone is the day that you could not get an x-ray because the patient could not afford it and you did not want to put your hospital further in the lurch!  Now we are lowering our prices, creating more accessibility for the common man, woman and child with an even better quality of care than before.
The reality of this system occurred over a cup of coffee early one morning on my way to work at LLUMC last November. I met with a friend who told me to let him know if I needed some financial support for a project in Haiti.  I presented him this idea thinking that he may be able to provide a small jumpstart for this $95,000 project.  Halfway through our cappuccinos he had heard enough of my enthusiasm to reach his hand across the table and shake on a promise to fund the whole project!  Mike Haman director of our PACS at LLUMC used his VIP status with Agfa Healthcare to strike a 70% discount on the software and then put the whole system together, travel to Port au Prince and spend a week for installation and training.
Entering good data with consistent attention to spelling and details is where we began to stumble at the bottom of the escalator.  We soon discovered that there were at least 7 existing medical record numbering schemes, with many patients having duplicate numbers. Continuing with this database nightmare would create chaos and frustration when searching for patient images. Fortunately, Jere Chrispens, our CEO is a seasoned IT executive who was able to come to the rescue.  An eighth medical record numbering system was created with a consistent 7 digits to supplant all previous systems.  It seemed like a simple scheme but various complexities arose which created moments of frustration amidst the joys of our new system.  This has now led us to create a demographic database in order to avoid duplicate record numbers, have the consistent spelling of names, and contact patients when needed.  These concepts don't intrinsically exist in Haiti.  But by padding the falls, communicating, and helping to lift each other up we are standing on the escalator and moving to the next level. Welcome to HAH!
Scott Nelson, MD
For me it was a historic day.  Seeing people day after day here who are in pain, who have severe deformities, who are disabled, motivates me to work hard and continually try to improve. Malades (malade = patient in French) come to HAH with all types of orthopedic problems.  Some of the most difficult to treat are hip problems. In 2010, it was 2 months after the earthquake that we received a beautiful C-arm, complements of our orthopedic colleagues back home.  This enabled us to take care of many patients who had hip fractures that were nearly impossible to operate without x-ray guidance.
Soon after, we were able perform hemiarthroplasties (partial hip replacements usually used for femoral neck fractures in the elderly).  But the option of doing total hip replacements had continued to be an elusive dream, until today.  We had to renovate our operating room, we had to get air handlers and filtration system working properly, we had to find implants which tend to be way out of the budget for our patient population, and we had to find a committed surgeon.  Starting a joint replacement program was one of my major goals during this 6-month period of time that Marni and I are living in Haiti.  That finally materialized due to the generosity of Renovis (total hip implant company) and Dr. Mark Mildren.
Over the past few weeks we called some of the patients on our total hip waiting list that was started in 2011.  The list is huge.  There are people that are in their 30's and 40's some younger some older that have been suffering from hip problems for years. One patient had an acetabular fracture several days before the 2010 earthquake but was unable to get treatment because of the thousands of victims crowding the hospitals. Beyond that he did not even go to the hospital because he was afraid they would just amputate his leg.  He has been walking with a crutch for more than 8 years.  Finally, we can take care of him.  Another man had a femoral neck fracture in the earthquake and told me about how he looked for treatment all over the city, but no one could take care of it.   He got the idea to come to "Diquini" (address of our hospital) and we did a hemiarthroplasty. I looked at his record and amazingly my operative note was there.  Several years later he started having pain and needs to have a conversion to a total hip arthroplasty as expected.  Many of our patients with hip problems are quite young, mostly due to accidents causing femoral head or acetabular fractures.  Some others have untreated childhood hip disorders or avascular necrosis.
Due to the young age of our patients it is particularly important to use the highest quality implants since a failed hip replacement down the road would be quite a disaster. We have spoken to several companies about donating implants but nothing worked out until recently when I spoke to Renovis a company based in Redlands. They have top quality implants and were willing to donate them for the cause.  I would like to give a big shout out to this company not only because of their high-quality product, but for their can-do attitude, customer service, and the relative simplicity of the process for donating the implants.
Mark Mildren (seen in action in cover photo) is a total joint specialist from Eugene, Oregon.  He finished his residency at Loma Linda University in 2016 and subsequently did a fellowship.  He came to Haiti with me as a resident in 2015.  Those years that many of us spent training Mark to become an orthopaedic surgeon are now paying off!  It is exciting to see him supersede me, operate as an attending and take the lead on cases.  It was important to find someone committed to more than just a one-time visit. Ideally, we would like to perform total joint replacement surgery here every 3 months and have a couple of surgeons that each come twice a year. Mark is building his practice, paying off loans, and has 3 kids and a wife. But since he still drives the beat-up Hyundai that was given to him by a fellow resident who was buying a new car, he has the freedom to do this sort of stuff. Even though he is an attending now, he had an overnight layover at LAX on his way down here and sat in the terminal all night to save money.
Special thanks to Dr Scott Epperly, orthopedic surgery resident from Loma Linda University and Dr Paul Kim, anesthesiologist from Redlands, CA for their assistance facilitating this program. Stay tuned for total knee replacement!  Hopefully coming later this year…
Scott Nelson, MD
I would like to give you a brief update on what is going on at Hôpital Adventiste d'Haiti (HAH).  Because of your support and generosity, we are on schedule to accomplish unprecedented goals this year.  There are dedicated people from Haiti and the United States working at HAH, creating an exciting synergy that is unique amongst healthcare institutions in the country.
The new outpatient clinic (pictured below), which is a $1.6 million USD project, is scheduled to start July 1, 2018.  The existing dilapidated structure (pictured above) that houses the administration and central storage depot will be demolished. These services must be relocated inside the hospital.  Renovations are currently underway to accommodate this, as well as to install a CT scanner and PACS (digital x-ray archival system).  Repairs to the plumbing and electrical infrastructure are also in progress.  We have a great team consisting of Dan Brown from Maine, who is our facilities manager, local workers, professional health care architects and a construction company.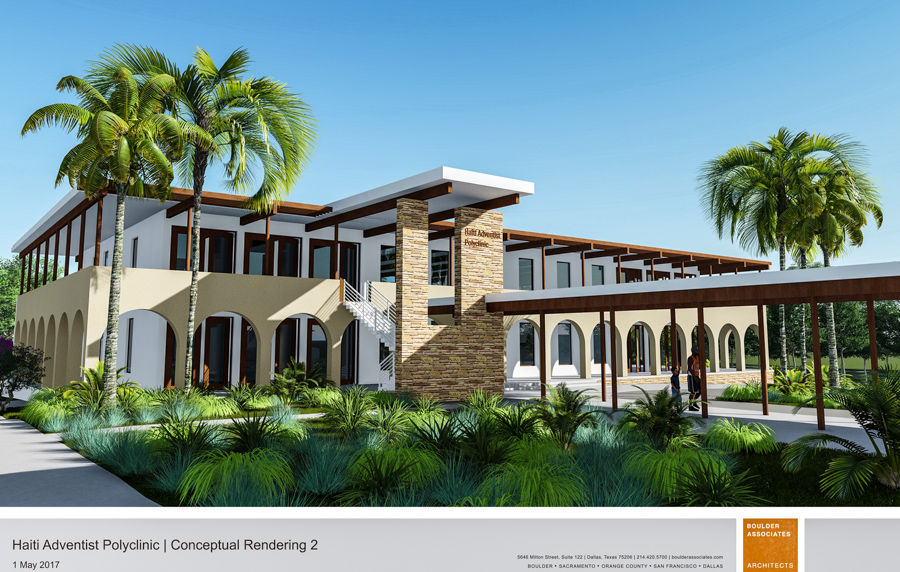 Beginning last December, Marni and I are spending 6 months working full time in Haiti until June.  The impetus for this was partially based on the need for surgical leadership. Alex Coutsoumpos MD (general surgery) has been at HAH full time for the last two years and has moved to Florida. In addition, I have risked my reputation to raise money from all of you and want to make sure every penny is aspirated out of your donor's dollar in regards to the upcoming building project.
With our decision to move to Haiti several serendipitous events occurred.  Most notably, Jere Chrispens a seasoned CEO and IT expert from Loma Linda has decided to join us for this venture and will serve as interim CEO of HAH.  His leadership will be key to helping create sustainability while maintaining our mission focus.
With pledges, cash on hand, and matching funds, we are in a strong financial position for the outpatient clinic building project.  I would like to express a special gratitude to some donors who have already given their entire 5-year pledge. The option of paying these pledges ahead of schedule is helpful as it mobilizes matching funds, and gives an immediate tax deduction to the donor.
Once again, I thank all of you for your generosity and assure you that lives are being changed in amazing ways. This would not be possible without your help.
Scott Nelson, MD
The first case of the day was a left tibial plateau fracture sustained in a motorcycle accident a few days ago.    After touring the orthopedic ward at the University Hospital downtown yesterday we are once again reminded that trauma, particularly the musculoskeletal variety, remains a neglected epidemic in developing countries like Haiti causing more than five million deaths each year, roughly equal to the number of deaths from HIV/AIDS, malaria and tuberculosis combined.
The surgery was long and complicated.  First both femurs were osteotomized (broken), straightened then the rotation normalized.  Both "broken" femurs had the correction stabilized with locked intramedullary nails.
The next and last case of the day was the older sister of the patient I just finished describing above who had similar, but not as severe, bowleg deformities secondary to rickets.
No femoral osteotomies were required in the older sister, but the Taylor Spatial Frame application on the tibias was very similar to the younger sister's surgery.  It is estimated that the correction in both girls will take approximately 3 months before the hardware could be removed.
Since Hopital Adventiste is a Seventh-day Adventist sponsored facility, no elective surgery is performed on the 7th day Sabbath.  Obviously, this mandate is set aside when it comes to emergent cases that present to the trauma bay.  Around midnight this morning we were awakened by the Chief of Surgery, Dr Alex Coutsoumpus, who informed us that there was a gentleman admitted to the hospital who presented with a severe crush injury to his left hand sustained while unloading grain from a ship.
We got back to bed around 2 am and slept well until rising to attend the Sabbath service down the road from the hospital.  All of the service was conducted in French but we were inspired by the boisterous which was boisterous and heartfelt.  When we first arrived the Sabbath School was in full swing and lesson study was a cacophony of loud and enthusiastic discussion (click on audio clip below) which apparently didn't seem to distract from the overall experience for most worshipers.
After dinner we wound our way back to the hospital through the streets of Port au Prince in a thunderstorm which clogged the roadways with debri rendering progress virtually impossible.  Still 3 miles from HAH, we elected to abandon the vehicles and walk the remaining distance through the chaos on the streets finally getting to bed around 1 AM.  Not much rest on "Rest Day."