I would like to give you a brief update on what is going on at Hôpital Adventiste d'Haiti (HAH).  Because of your support and generosity, we are on schedule to accomplish unprecedented goals this year.  There are dedicated people from Haiti and the United States working at HAH, creating an exciting synergy that is unique amongst healthcare institutions in the country.
The new outpatient clinic (pictured below), which is a $1.6 million USD project, is scheduled to start July 1, 2018.  The existing dilapidated structure (pictured above) that houses the administration and central storage depot will be demolished. These services must be relocated inside the hospital.  Renovations are currently underway to accommodate this, as well as to install a CT scanner and PACS (digital x-ray archival system).  Repairs to the plumbing and electrical infrastructure are also in progress.  We have a great team consisting of Dan Brown from Maine, who is our facilities manager, local workers, professional health care architects and a construction company.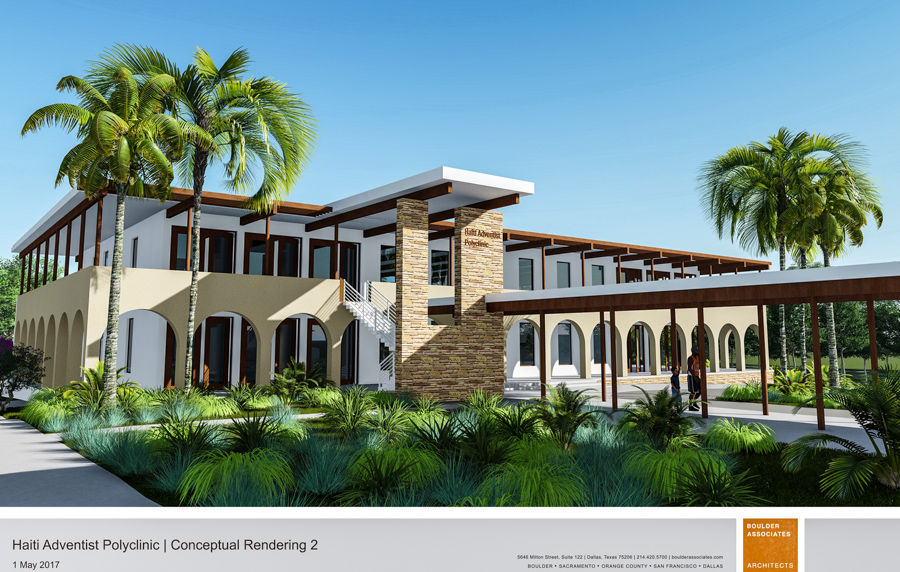 Beginning last December, Marni and I are spending 6 months working full time in Haiti until June.  The impetus for this was partially based on the need for surgical leadership. Alex Coutsoumpos MD (general surgery) has been at HAH full time for the last two years and has moved to Florida. In addition, I have risked my reputation to raise money from all of you and want to make sure every penny is aspirated out of your donor's dollar in regards to the upcoming building project.
With our decision to move to Haiti several serendipitous events occurred.  Most notably, Jere Chrispens a seasoned CEO and IT expert from Loma Linda has decided to join us for this venture and will serve as interim CEO of HAH.  His leadership will be key to helping create sustainability while maintaining our mission focus.
With pledges, cash on hand, and matching funds, we are in a strong financial position for the outpatient clinic building project.  I would like to express a special gratitude to some donors who have already given their entire 5-year pledge. The option of paying these pledges ahead of schedule is helpful as it mobilizes matching funds, and gives an immediate tax deduction to the donor.
Once again, I thank all of you for your generosity and assure you that lives are being changed in amazing ways. This would not be possible without your help.
Scott Nelson, MD