The following post was written by Scott Nelson who returned last Friday from another visit to Hopital Adventiste d'Haiti.  This is Part 3 of the March, 2015 Trip Report Series.
A few blocks away from the Basilique Notre-Dame (still in ruins noted in image above) is a local hospital for which I will keep the name anonymous.  I had a good idea of what the conditions were like but never having been there I asked Dr. Alexis if we could take a tour of the orthopaedic wards.  The situation was even worse than expected.  Patients languishing in crowded, oppressively hot, foul smelling rooms, some of which were only lit by tiny cell phone flashlights.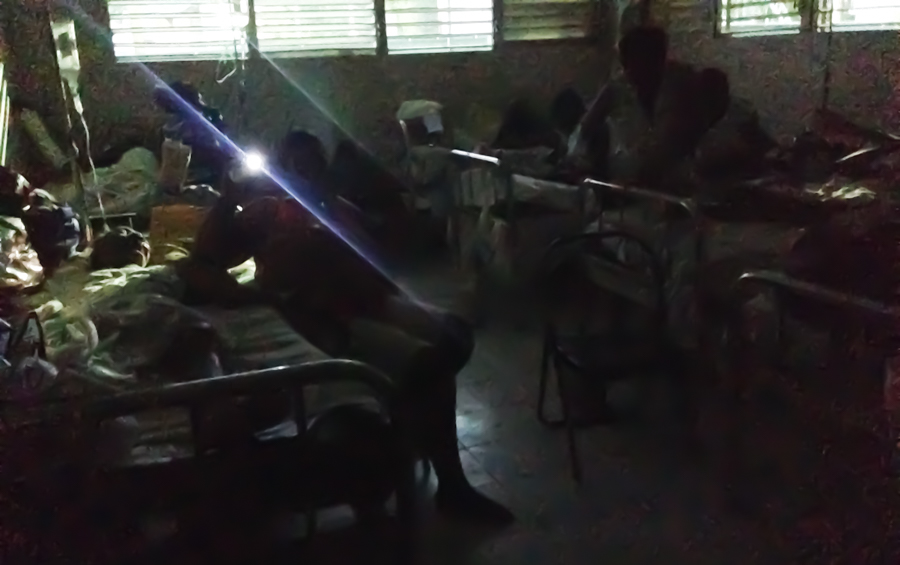 One horrible case after another, many of which would have been avoided with a simple well-performed operation at the appropriate time.  In some cases expensive modern external fixators were seen carelessly applied with complete neglect for postoperative care.  One patient had 10 inches of his tibia debrided after a relatively straightforward tibia fracture that got infected.  Now he has been there for 11 months in bed.  An emergent debridement and SIGN nail could have put him back on his feet. Now, an amputation is the only reasonable option, but no one wants to tell him that so he just hangs there.  His Bible and Sabbath School quarterly are at bedside.
When we arrive back at HAH, our perception of dilapidation, disorder, and poor nursing care has changed.  We feel like we have just walked in to the Hilton.  But the knowledge of those patients at the government hospital, still suffering even as I write this report is motivation to continue our focus on treating the underserved.  As we renovate our facility and improve the level of care we have an urgent need to create a communal ward where the poorest of patients can be economically cared for.
A few weeks ago Elaine Lewis met a man who brought in a patient who needed surgical care to Hopital Adventiste d'Haiti.  As it turns out the gentleman is the coordinator for the Restavek Freedom ministry in Haiti. Restavek (restavec in French) is the name for child slaves in Haiti. Children who are desperately poor are taken in by families who promise to get them an education and a better life in exchange for servanthood.  The reality is far different and amounts to 300,000 child slaves in this country.  According to their website, Restavek Freedom's mission is simple, to end child slavery in Haiti.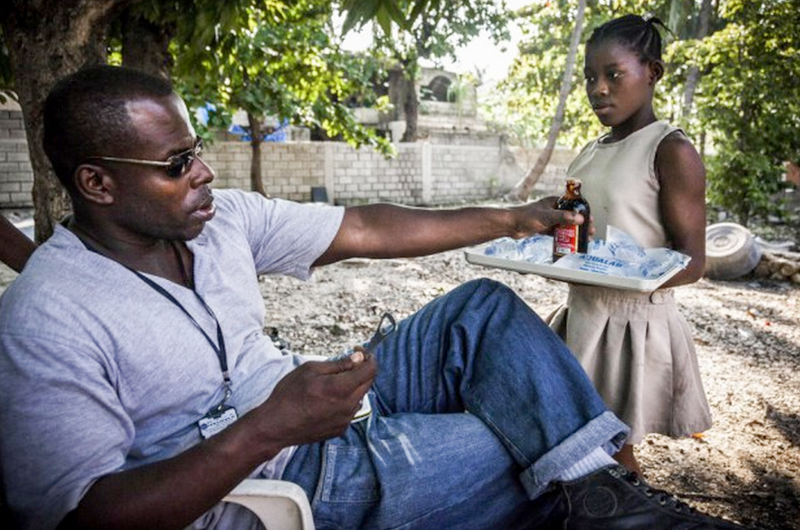 The following post was written a few days ago by Scott Nelson who is currently at HAH with son Chad, orthopedic surgeon John Anderson and family, orthopedic resident Mark Mildren and medical student Corey Burke.  This is Part 2 of the March, 2015 Trip Report Series.
My life is not necessarily in balance.  In fact, often the things we strive for most are the areas of our lives that are most lacking. Balancing priorities at home nearly eclipsed my plans for this trip and now that I am here it seems that a good part of my busyness at home is relatively unimportant.  In many ways these trips help to keep me in better balance.  They help me realize what is important in life and what is not.  Due to my own lack of balance it is important for me to get to Haiti at least every three months.  Most people do not require such rigorous travel schedules to stay sane, but I find myself getting restless unless I am able to leave the United States and come to such a place as this on a regular basis.
Our effectiveness as human beings, teachers, and leaders depends upon balance. We should not be satisfied with the status quo, but nor do we want to focus only on areas of needed improvement lest we become negative and critical.  When looking at hospital economics, business plans, and the pace of operating room construction it is easy for me to get frustrated.  These vexations need not be published here but perhaps it should be known that not everyday in the mission field ends in feelings of victory and accomplishment.  In an attempt to not be overwhelmed by challenges, I have chosen to quit asking when the new operating room is going to be ready.  Nor will I be able to answer that question for anyone else.  The projected date is June 1, but realistically at the current pace it will be well beyond that.  The good news is that progress is being made, the quality of workmanship is well beyond anything I have seen here, and the provisional operating room is now so well organized that we can safely perform just about any operation there.
The improvements and installations in the new operating room continue to impress me.  The new operating accommodations are such high quality that future surgical volunteers will not be challenged as we have been in the past.  Sometimes I wonder if they will even want to still come, as there will be less of a sense of adventure and the perception of local needs will be softened.
I continue to try and balance diplomacy with accomplishment, relationship with productivity, tolerance with perfection, optimism with reality, censure with appreciation, and rest with work.  Fortunately after 6 days of work, a day of rest has arrived.
The following post was written by Scott Nelson when he first arrived with a team at Hopital Adventiste d'Haiti early last week.  This is Part 1 of the March, 2015 Trip Report Series.
Due to the efforts of Elaine Lewis (surgical tech), Dan Brown (facilities manager) and Ed Martin (administrator) major progress is being made.  When we arrived yesterday on campus there was a noticeable difference.  The wires and tubes hanging all over the front of the building have been consolidated and cleaned up, the old ambulance parked in the backyard has been relocated, the nonfunctioning rusty water tank that was "gifted" to us after the earthquake has been removed, and the makeshift dilapidated kitchen built by The Supreme Masters in 2010 has been destroyed.
Before Elaine
Thanks to Elaine the operating room is in impeccable condition.  I have never seen it so organized.  Not a single item is out of place in the sterilization room, the table is not piled up with a bunch of disorganized instruments, the sinks are clean and the shelves are labeled and neatly stacked.  Although the new operating room is still awaiting some final touches the current operating area is more than adequate to accommodate whatever cases need to be done.  A big part of doing safe surgery is being organized, having what you need when you need it, keeping equipment clean and in good working condition, and effectively using what you have.  More important than Elaine's organizational skills is her diplomacy.  She has not done all this work herself.  She has motivated the staff, built relationships, taught them what needs to be done and shown appreciation for quality work.  They are now doing it on their own.
I have not yet seen the progress inside the new operating room but I expect that my report will be good.  Two massive medical air/suction pumps have been installed downstairs as well as a huge circuit board. These pumps look large enough to run the 16 operating rooms at Loma Linda University much less the 3 at HAH.  The front entrance to the operating rooms has been remodeled and looks modern and clean.
This week in addition to the cases that we have to operate we plan to accomplish some administrative goals regarding the sustainability of the orthopaedic program.  Although all of us have the common goal of continuing to offer top quality services to all, it is challenging to find ways to increase revenues, make a budget, transact donations and continue to host volunteers without burdening the precarious financial situation of the hospital.
Many of you have undoubtedly noted that haitibones has been revitalized with a new website.  There were many factors that went into the decision to switch platforms but hopefully the change will ultimately be positive.  The conversion was arduous and time consuming but I wanted to give a shoutout to Lynn Delinger at Pyralis Design for her patience and expertise throughout the process.
You are also encouraged to sign up on the site for email updates consisting primarily of News and Trip Reports.  You will NOT be spammed with requests for donations or other forms of junkmail.  Stay tuned for more updates regarding some exciting news soon to be announced.
Once again, thank-you for your continued support in all phases of the project.
The following post was written by Elaine Lewis, volunteer surgical technician from Southern California.  Clubfoot is a congenital condition that severely twists the foot or feet downward and inward, making walking difficult, painful or impossible as a child develops.  Over 220,000 children, in the developing world are born each year with clubfoot.  With early detection and fairly simple intervention clubfoot can be completely corrected.  Read more about clubfoot and the Ponseti technique used at Hopital Adventiste d'Haiti here.
Many begin their journey long before the sun is up coming by tap tap, bus, or hired driver. Some even come by motorcycle. Our clubfoot clinic has become known throughout the country and our own Dr. Alexi's fame is well-established.  Four or five Haitian cast techs crowd into a small room manipulating tiny, tender feet and the cries and screams begin. I am summoned by my tender heart to the children to pass out suckers, comfort or sing to them to distract from the pain or fear they feel as their feet are being forced outward to correct their clubfeet.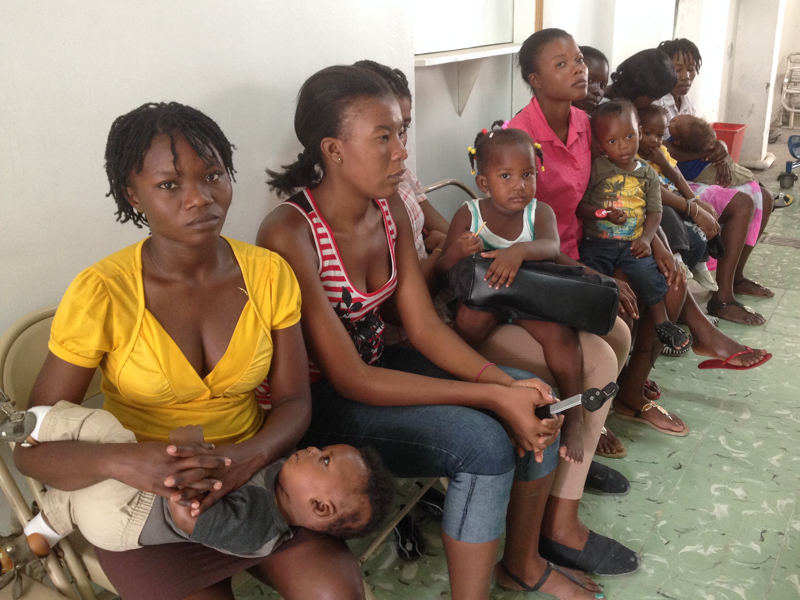 There isn't much happiness in our halls on clubfoot day. Mothers and children seldom smile…they know what's coming, I guess. They must wonder about the future and the difficulties they will continue to face if their child remains lame. Will they have to give care into adulthood? Will this impact them economically if this child can't work? Will the travel to HAH become too expensive and tiresome that they give up before full correction happens?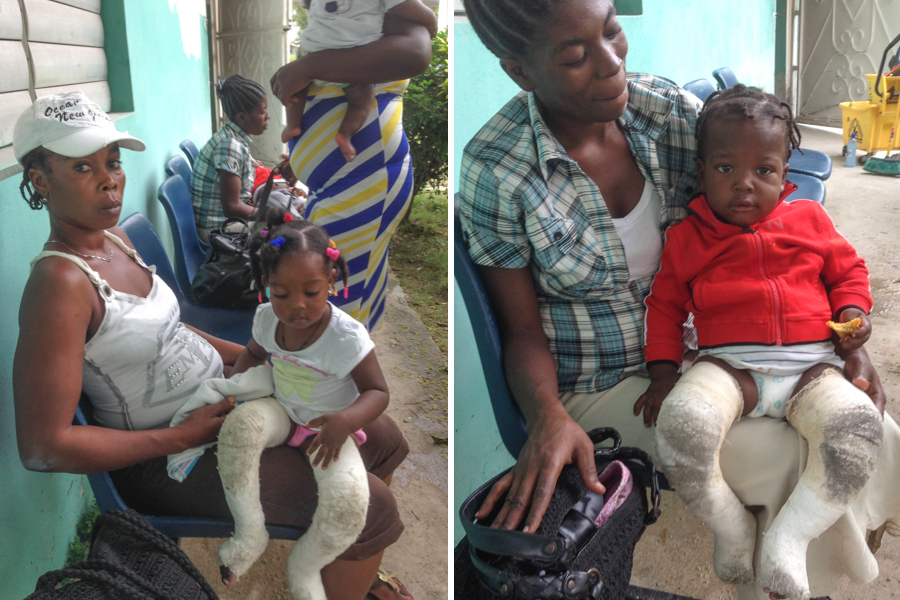 It is confusing to understand how so many babies and children can continue to show up at our door week after week to be treated by casts, braces and surgery–some as young as 7 days. I've asked the question many times, "What is the cause of all this?" Few answers have come from the doctors, however environmental pollutants have been suspected. There is no lack of that in Haiti.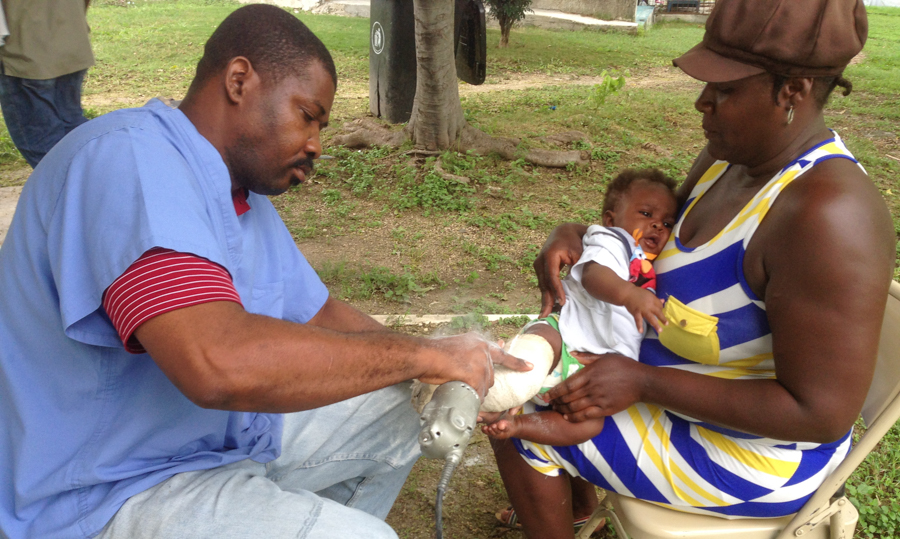 I look forward to and dread clubfoot clinic every week. I meet some amazing mothers, nannies and orphanage workers who come from France, Canada, Mississippi and Michigan. I also meet mothers who appear to be hanging on by a thread, poor and dirty and who ask me for food.
But there's hope at HAH as we give care to everyone who shows up with or without the means to pay. Remember us.
It's been a couple of months now since a group of us made a quick trip to Hopital Adventiste d'Haiti.  We had originally planned the venture to inaugurate the newly renovated operating theater on the 5th anniversary of the Big Quake.  But several weeks before our departure we were informed that the construction project was not even close to coming to fruition but we decided to make the journey anyway.
Discouraged is the word that best described the emotion that overcame me upon entering the makeshift operating room that occupied the old Emergency Department.  I remembered spending hours organizing equipment on my last trip and the whole place seemed to have degenerated into chaos with overflowing bins and bulging cardboard boxes scattered about in seemingly random fashion.
The concept of sorting through this mess, organizing it into storage containers, cataloging and labeling it all seemed daunting to me at the time.  This was the first time I met longterm volunteer Elaine Lewis, she and husband Jeff had arrived at HAH only a couple of days before us.  Remarkably, Elaine seemed totally optimistic about the task that lay ahead…I remembered thinking to myself, "this woman has no clue" about the enormity of the project she had agreed to undertake.
Overall, we had a great trip, performed a few surgeries and spent time reviewing plans for the new operating rooms.  A little disappointed on the slow progress of the OR makeover, particularly the part about 3 containers full of brand new equipment waiting to be "cleared" through Haitian Customs.  Hard to remain downbeat for long, especially after taking a tour of the new facilities with Project Manager Dan Brown who appeared to be perpetually upbeat.
Had an uneventful trip back home to California and shortly thereafter (literally just a few days) we started getting emails from Elaine asking for more work!  Impossible I thought until we got picture proof, the storage rooms had been transformed in a flash.  A few weeks later we got word that the containers had "cleared" Customs and Dan's crew was busy installing the updated gear in the new operating suite.  The bottom line is there does seem to be light at the end of the tunnel thanks to the hard work and dedication of the HAH staff like JJ and Francel and volunteers like the Lewis' and Dan Brown along with many others and indeed it appears to be shining brightly.
Another update from Elaine.  Anyone who has spent time volunteering overseas experiences culture shock in one form or another, sooner rather than later.  Elaine is a tough lady, sounds like she is handling it well.
It's dark outside as I stumble out of bed way too soon and slip my scrub bottoms on.  I make my way to the "toilette" praying there isn't a roach the size of Florida to step on.  I stick my head under the kitchen faucet to wash my hair in cold water–colder than usual because it rained last night and got an even colder shower down my neck and back.  The power was off in the night shutting down the water supply and the pipes are filled with air.  What once was funny, the cold splashing shower down the front of my clothes, is no longer funny.  It occurred to me this week that culture shock has set in.  A once funny common event has now become a serious irritant.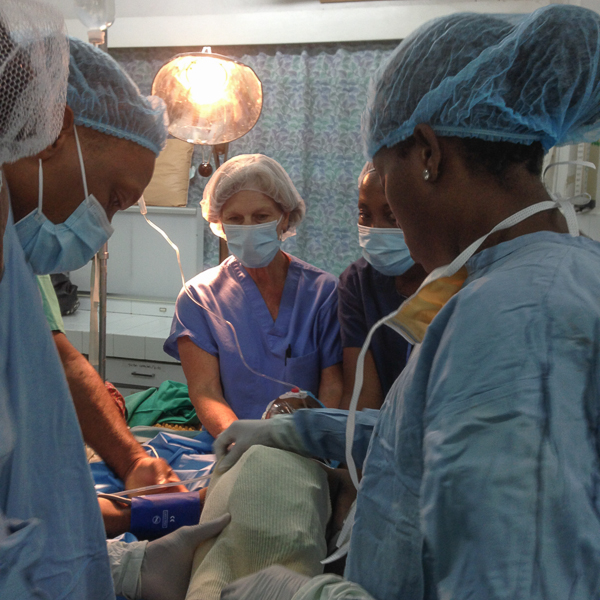 Another matter for prayer has presented itself.  Not the spiritual darkness gripping Haiti, not the abject poverty or continual birth anomalies presenting at the OR, but splashing, spurting water from air-filled pipes.
A neighbor wrote yesterday, "It's time for you come home!  There is a family reunion going on at your house; the kids are riding up and down the street in bathing suits, and we can't find you."
Is it time to go home?  Does it matter that I'm still here?  Where do I want to be?  Easily I answer, "it's not time to go home, the job isn't done."  Haiti still grips my heart and I don't want to be anywhere else.
The following post was written by Elaine Lewis, a Surgical Tech from southern California who, along with her husband Jeff, have dedicated 6 months of their lives to Hopital Adventiste d'Haiti.  All who have met Elaine have been impressed with her tireless work ethic and relentless enthusiasm in the face of adversity.  We are all grateful for her service.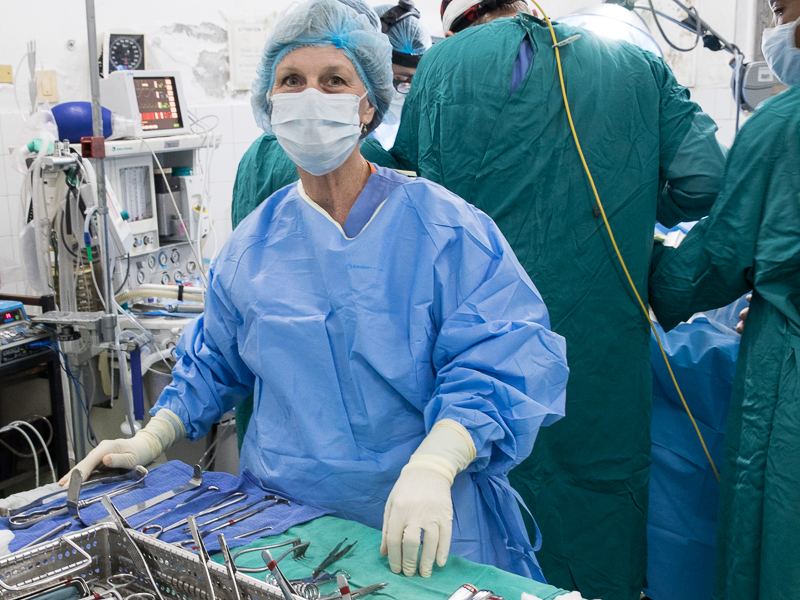 Sometimes it takes a long time to realize your dreams.  For me, it took 60 years.  For as long as I can remember, I have wanted to do medical missions.  In fact, I remember being a child and having that desire.  But, I grew up and forgot about it…sort of.  I got a degree in Social Work, married in college and had a family right away.  But the dream kept haunting me from time to time, so much so that I made three attempts to go to nursing school. I raised my children, seven of them and continued to think about medicine and missions but the dilemma of no training loomed large as a problem.
My husband and I attended a conference in Iowa three years ago where he spoke about making the last years of your life count for God and not retired in the classic sense.  Nine months later, I was enrolled in Surgical Tech school at the encouragement of a retired nurse in her 80's who was still doing medical mission trips and who said there was a need.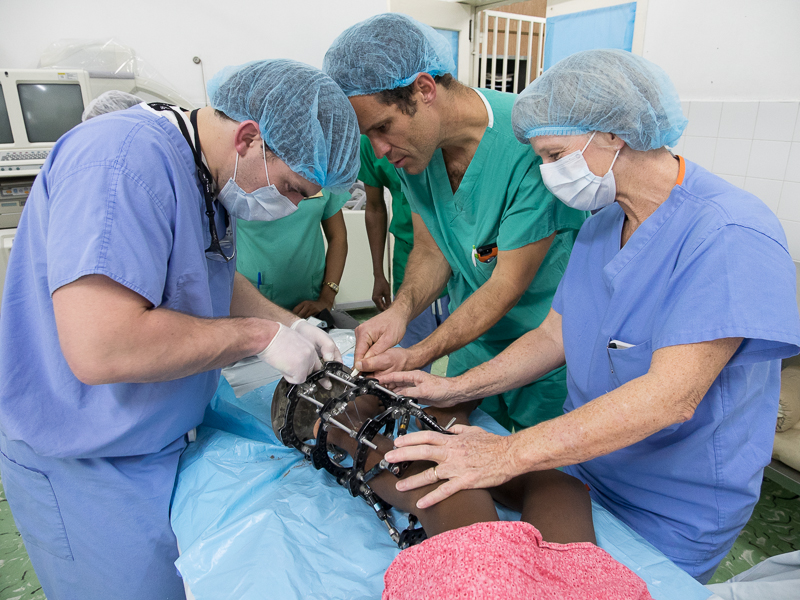 At 59, I wasn't sure I could learn the massive amount of difficult material I would be forced to know in order to pass.  For 15 long months I excelled academically and kept up with my twenty year old classmates, graduating Valedictorian with perfect attendance.  But, no matter what I did I couldn't get a job.  I began to widen my boundaries, applying outside of California even to Alaska.  Finally, I thought of Haiti, having been there after the earthquake just to teach English in an orphanage for a week.
I Googled Surgical Tech in Haiti and haitibones.org came up.  I read with interest the entire website and wrote them a letter about who I was and that I was available.  Could there be a need?  Wondering where this organization was, I thought it could have been in Europe, Canada or somewhere in the U.S.  Someone named "rongeur" responded to my letter and referred me to another doctor named Scott Nelson who happened to live in my neighborhood.
I am still in awe of what happened over the next two months as the door was thrown wide open for me to join the team at Hopital Adventiste d'Haiti in Carrefour Port Au Prince.  Not once did we hit a snag of any kind toward my getting here to organize and set up three new operating rooms that are presently under construction and due to open within the next three months.  Every day brings new challenges and new joys as the Haitian team and I navigate years of neglect in training, organization, and management.  My entire life has been the training ground for this endeavor and I've never been more ready to make a difference.
Earlier this month, Dr. Nancy Snyderman, Chief Medical Editor for NBC Nightly News, returned to Port au Prince and visited Hopital Adventiste d'Haiti and interviewed Scott Nelson, MD.
The piece aired on Sunday evening, January 11 and can be viewed below or directly on the NBC website.