The first case of the day was a left tibial plateau fracture sustained in a motorcycle accident a few days ago.    After touring the orthopedic ward at the University Hospital downtown yesterday we are once again reminded that trauma, particularly the musculoskeletal variety, remains a neglected epidemic in developing countries like Haiti causing more than five million deaths each year, roughly equal to the number of deaths from HIV/AIDS, malaria and tuberculosis combined.
The surgery was long and complicated.  First both femurs were osteotomized (broken), straightened then the rotation normalized.  Both "broken" femurs had the correction stabilized with locked intramedullary nails.
The next and last case of the day was the older sister of the patient I just finished describing above who had similar, but not as severe, bowleg deformities secondary to rickets.
No femoral osteotomies were required in the older sister, but the Taylor Spatial Frame application on the tibias was very similar to the younger sister's surgery.  It is estimated that the correction in both girls will take approximately 3 months before the hardware could be removed.
Since Hopital Adventiste is a Seventh-day Adventist sponsored facility, no elective surgery is performed on the 7th day Sabbath.  Obviously, this mandate is set aside when it comes to emergent cases that present to the trauma bay.  Around midnight this morning we were awakened by the Chief of Surgery, Dr Alex Coutsoumpus, who informed us that there was a gentleman admitted to the hospital who presented with a severe crush injury to his left hand sustained while unloading grain from a ship.
We got back to bed around 2 am and slept well until rising to attend the Sabbath service down the road from the hospital.  All of the service was conducted in French but we were inspired by the boisterous which was boisterous and heartfelt.  When we first arrived the Sabbath School was in full swing and lesson study was a cacophony of loud and enthusiastic discussion (click on audio clip below) which apparently didn't seem to distract from the overall experience for most worshipers.
After dinner we wound our way back to the hospital through the streets of Port au Prince in a thunderstorm which clogged the roadways with debri rendering progress virtually impossible.  Still 3 miles from HAH, we elected to abandon the vehicles and walk the remaining distance through the chaos on the streets finally getting to bed around 1 AM.  Not much rest on "Rest Day."
We spent time sorting through and organizing gear in the new orthopedic equipment room.  Again, we were expecting to have a much bigger task in front of us but Elaine Lewis and JJ had performed wonders prior to our arrival so all that was left was taking care of a few small details.
We performed several smaller cases and 2 relatively big ones.  The first big case was a young man with skeletal dysplasia with resultant marked bowleg deformities requiring application of bilateral Taylor Spatial Frames.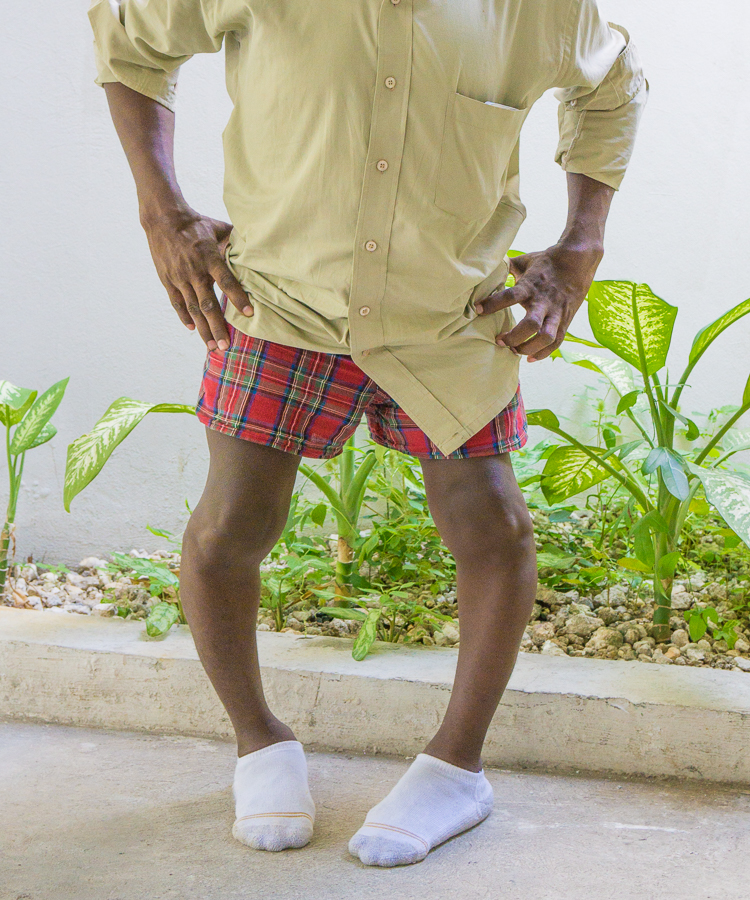 25 y/o male with severe bilateral bowleg deformities secondary to skeletal dysplasia
The Taylor Spatial Frame (TSF) is an external device for limb correction, lengthening and/or straightening that is based on the Ilizarov Method. This device and technique is a mainstay of pediatric musculoskeletal deformities at Hopital Adventiste. This external fixator takes advantage of the body's natural ability to grow healthy new bone tissue and gives the surgeon the ability to accurately move bones to their correct precise anatomic alignment.  The TSF fits around the patient's limb and is attached to the bone with pins or wires that extend from the rings, through the skin and bone to the other side.
To be more specific, the TSF is a circular, metal frame with two rings that connect with six telescopic struts that can be independently lengthened or shortened relative to the rest of the frame. This allows for six different axes of movement, which gives the TSF the ability to correct difficult congenital deformities and trauma cases.
When using the TSF, the surgeon inputs information about the patient's original bone deformity into an advanced web-based computer application. This information is then interpreted by the software and a day-by-day treatment plan is created. The software also creates an image of the patient's deformity on-screen and shows how the bones should be moving each day, until the bones are completely set in proper alignment. The patient then makes daily adjustments to the struts, depending on the prescribed course of treatment. As the adjustments are made, the rings are repositioned with respect to each other, moving bones in the directions necessary for treatment.
The second big case involved a young man who underwent intramedullary nailing of a right femur fracture sustained in a motorcycle accident 3 years ago. Unfortunately the patient developed a marked extension contracture of the knee (couldn't flex greater than 15 degrees) secondary to postoperative adhesions.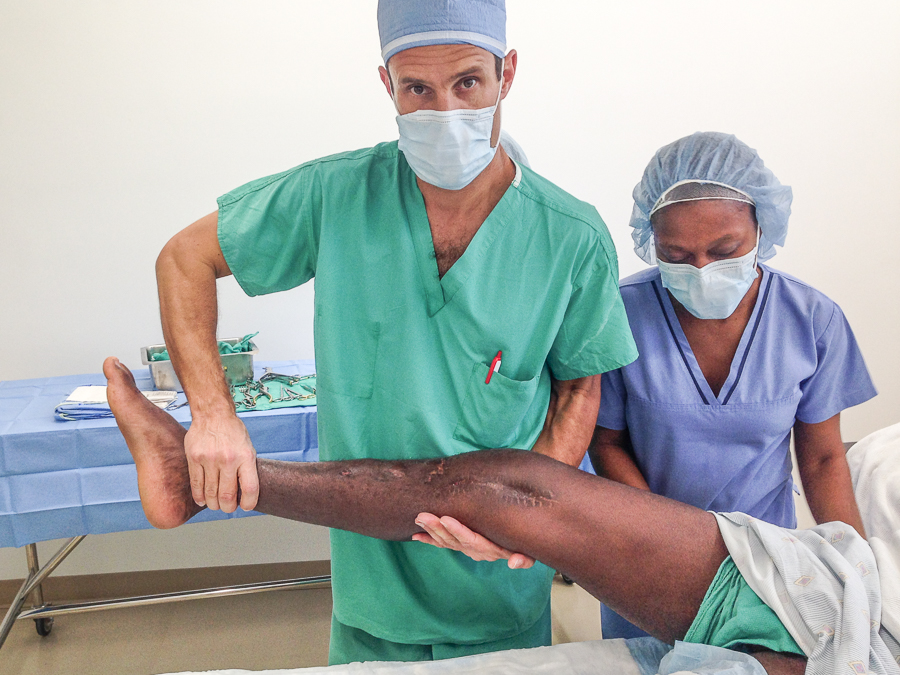 An extension contracture of the knee is a well known complication following  femoral fractures.  Traditional management consists of a quadricepsplasty which is comprised of a controlled, sequential release of the soft tissue structures, primarily the quadriceps muscle.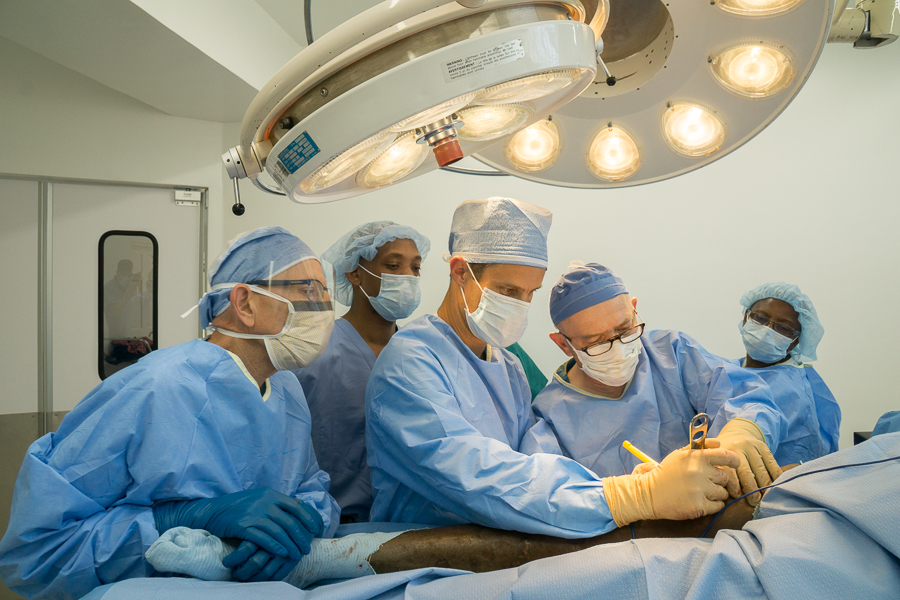 The Team performing a quadricepsplasty
This procedure can be seemingly somewhat barbaric as the incision is usually lengthy accompanied by a great deal of blood loss and frustration on the part of the surgeon secondary to slow progress.
We performed several small surgeries today including a bilateral 8-plate application for pediatric lower extremity angular deformities, a Girdlestone procedure (femoral head resection) in a paralytic patient, debridement of chronic tibial osteomyelitis and removal of a tibial external fixator with debridement of infected pin tract sites.  We also slogged through another clinic which is always a challenge primarily due to language barriers and xray logistics.
The highlight of the day was the arrival of two new team members from Israel, Drs Noam Bor and Mark Eidelman from Israel.  Dr Bor is the Head of the Pediatric Orthopedic Unit at Central Emek Hospital in Afula.  Dr Eidelman is the Director of Pediatric Orthopedics at the Meyer Children's Hospital in Haifa.
Collaboration with international team members on overseas trips like this is one of the outstanding fringe benefits.  Not only do our perspectives get changed as we entertain new ways of addressing problems, we make new friends that enrich our lives for years to come.
Day 2 of the Fall, 2015 Orthopedic Surgical trip from Loma Linda University.
Due to spotty and slow internet access, reports from our Fall trip will be delayed and sporadic.  This has been an exciting trip for us so far and hopefully will be encouraging to the many supporters who read this blog as we witness the incredible progress that has been made to date.
Three of us (Scott, Peter and Jim) left LAX at 11:35 Monday evening and took the red-eye to Miami where we met the rest of the team, Alex and Saif.  After a brief layover, enhanced by a tasty breakfast at the American Airlines Admiral's lounge, we took the close to two hour flight to Port au Prince.
Clearing immigration was a breeze but clearing customs was problematic once again as two of us had our baggage searched because the phrase "medical supplies" triggered a search for contraband medication.
Driving to Hopital Adventiste took much longer than usual due to a torrential downpour that flooded the the streets with debri washed down from the hills.
In spite of being tired from the all-night flight, we were eager to view the new operating theater to see what progress has been made.
The following post was written by Dr. Alex Coutsoumpos (far right in banner image above), a newly graduated general surgeon who, along with his family, has made a several year commitment to Hopital Adventiste d'Haiti.  After months of anticipation, the big day has finally arrived and the first surgical case was successfully performed in the newly renovated operating theater.
For the past couple of weeks the halls of Hopital Adventist d'Haiti have been abuzz with excitement regarding all the visible changes going on at our hospital.  Dan Brown, our facilities manager/construction extraordinaire, has been orchestrating simultaneous projects for the renovation of one hospital wing, building a new clinical laboratory and renovating the operating rooms.  This past week one of those projects was completed.
On Thursday, October 8, 2015, the operating rooms were opened for surgery after a special prayer of dedication (see banner image above).    This event would not have been possible if it were not for the operating room staff that tirelessly worked in between surgical cases to complete an inventory and organize a myriad of surgical items in preparation for the move to the new operating rooms over the last month and a half.  The move itself occurred over a period of three days, in which new donated equipment was transported in from storage, old indispensable equipment was refurbished, surgical supplies stocked and the new space cleaned from top to bottom.
Following the dedicatory service, Dr. Alexis, and his assistant, Dr. Thierry Rosarion completed the first two cases in the new operating rooms.  The first case was a knee arthroscopy and the second case was a forearm debridement in a young child who had developed osteomyelitis after surgical repair for an ulnar fracture at an outside facility.  Fortunately, both cases were completed without any major glitches.
The determined work of Dr. Elie Honorie, Dr. Scott Nelson, Dan Brown, Edward Martin, the hospital administration, the donors and the hospital staff is truly appreciated.  Without this group of people the completion of this important project would not have been possible.
Though the hospital still faces many difficulties there is a burgeoning sense of optimism for the institution.   Many staff members have approached the administration to share their words of affirmation for the work that is currently being done to improve the hospital and its future.  For many, the opening of the new operating rooms is not a just a symbol of change to come, but the realization of a new chapter for the institution.
More than 2 billion people are unable to receive surgical care based on operating theatre density alone. The vision of the Lancet Commission on Global Surgery is universal access to safe, affordable surgical and anaesthesia care when needed. The study aimed to estimate the number of individuals worldwide without access to surgical services as defined by the Commission's vision.
The Commission modelled access to surgical services in 196 countries with respect to four dimensions: timeliness, surgical capacity, safety, and affordability and found that at least two-thirds (4·8 billion people) of the world's population do not have access to surgery. The proportion of the population without access varied widely when stratified by epidemiological region: greater than 95% of the population in south Asia and central, eastern, and western subSaharan Africa do not have access to care, whereas less than 5% of the population in Australasia, high-income North America, and western Europe lack access. Interpretation
The bottom line is that most of the world's population does not have access to surgical care, and access is inequitably distributed. The near absence of access in many low-income and middle-income countries represents a crisis, and as the global health community continues to support the advancement of universal health coverage, increasing access to surgical services will play a central role in ensuring health care for all.
Although Haiti was not specifically addressed in this article, it would be safe to assume that it would be included in the category where 95% of the population does not have access to adequate surgical care.  Please reference a related post titled, "I'd rather have HIV than a broken leg."
Received a note today from Hopital Adventiste Project Manager Dan Brown stating, "If all goes well we will be moving in on Tuesday, Sept. 29th!"  He was referencing, of course, the long-awaited renovation to the new operating theater.  To all past and future volunteers and staff, this is great news indeed.  The banner image above shows the newly installed doors leading to the 3 new operating rooms.  Dan and his crew have managed to pull off a first class effort as evident in the images below.  We are looking forward with great anticipation to our trip next month.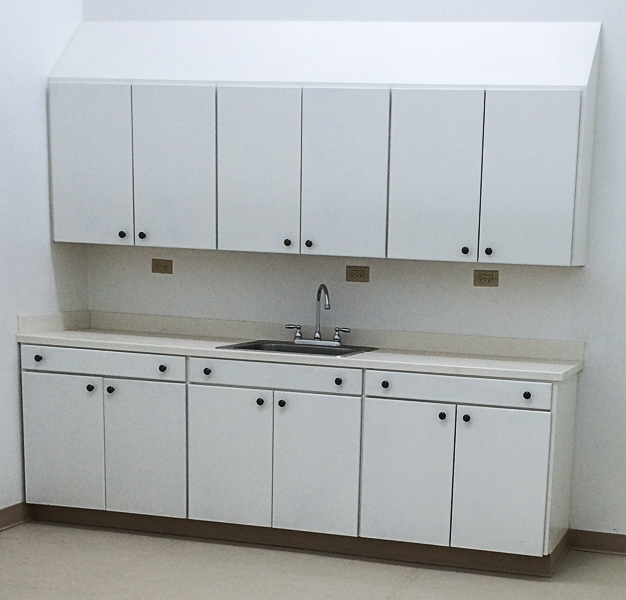 The following article was written by Merrill Chaus, RN and was originally posted on the Team Sinai Haiti blog.  Merrill has visited Haiti on numerous occasions and recently wrote an article titled "Dark Side of Doing Good" for haitibones that is well worth reading if you have an interest in volunteering overseas.
On August 2, 2015 Operation Rainbow/Team Sinai conducted a nursing workshop at Hôpital Adventiste d'Haiti in Carrefour.  The idea for this conference evolved in response to research and interviews for my MPH thesis, in which I explored local health care worker perceptions regarding short-term surgical missions.  Recommendations from the local healthcare workers included a desire for more nursing education in the local language.  The purpose of this 2-day conference was to honor this request.   Topics of interest suggested by the nursing director included: Infection Prevention, Role of the Operating Room Nurse, and Care of the PACU (Post-operative Care Unit) patient.  In addition to these presentations, Dr. Francel Alexis gave an informative lecture on TSF (Taylor Spatial Frame).  There were 70 participants, which included nursing students from the university, HAH nurses, housekeeping, PT and a physician.
Our nursing instructors Johanne Sequin and Nadine Henry, both from Shriners Hospital in Montreal, Canada gave 6 talks in French and Creole.  Johanne has 40 years of experience as an Operating Room Nurse and Nadine has 30 years experience in pediatric and adult PACU. Recruiting experienced instructors that spoke the local languages was key.  Brittany Herzenberg, our administrative assistant, kept us on time and organized.  She even secured a small generator when we lost electricity to the LCD projector.
The handrub formulation is evidence-based, utilizes local resources and provides access for healthcare providers at point of care. Four local nurses formed an infection prevention committee to oversee production and utilization of the handrub.
After a hospital wide assessment, dispensers were placed at strategic locations away from electric outlets, medical gases and light switches.  According to Mac, the Haitian volunteer coordinator, dispensers are actively being used and refilled when necessary.
Break out sessions were arranged so participants could practice: donning and doffing PPE (Personal Protective Equipment), proper hand hygiene technique and simulate real case scenarios that may occur in the OR, PACU or wards. Course certificates were given at completion of each workshop (see banner image).
The conference concluded with a demonstration on how to make alcohol based handrub according to World Health Organization guidelines. We are thankful for the invaluable support of the administrative staff. HAH provided two air conditioned rooms and lunch for all participants.
Team Sinai will be returning to HAH this January for our annual surgical mission, this time with an emphasis on foot and ankle surgery.